Alcohol Ink Collage
01 Thursday Nov 2012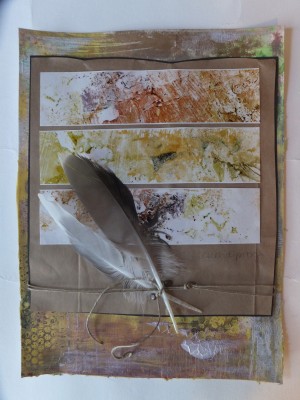 So here's what happened:
On the way home from Art & Soul, some of my alcohol inks leaked inside the plastic  bag they were packed in. My luggage was saved…but I was faced with a sticky, dried-inky mess to clean up as I unpacked.
I mentioned it on Facebook. And wouldn't you know, crafty people from all over the world suggested I fish that plastic bag out of the garbage and go make something with it. So here it is!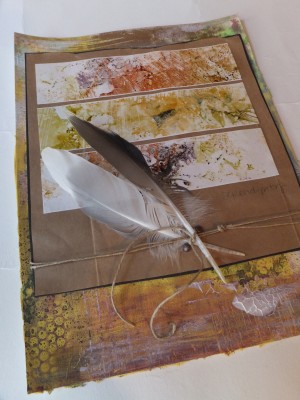 The alcohol ink part is not the background—the background was a 5:30am painting frenzy that included acrylic paint, Shiva oil paint sticks, punchinella and an old hotel key card. Plus some Dylusions sprays.
But look—you'll see the alcohol ink on the three horizontal strips going across the collage.
Here's how I did it:
Step 1: Cut apart the plastic bag.
Step Two: Adhere a strip of clear packing tape to the dried-ink side of the bag and burnish with a bone folder or hotel key card. Then remove the tape—give a yank at one end and you'll have a lovely piece of sticky tape with a cool pattern of ink. Attach it to white cardstock.
Step Three: Repeat and repeat! You won't remove all of the alcohol ink from the bag, so you can keep taping and lifting to create lots of beautiful colored strips.
You might wonder why I didn't just cut apart the plastic bag and use that…well, you certainly could, but I love the ease of having the tape in order to stick it to my surface. Otherwise, I would need to attach the plastic bag to my background with brads or staples or glue or something.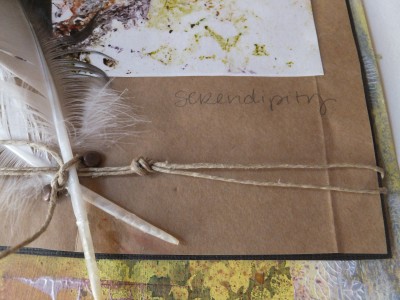 The title is "serendipity". It also includes feathers found by my small walking-companion-who-picks-up-everything, twine and brads. The kraft paper piece was a paper bag.
The cool thing? You can totally do this without risking your suitcase! Just squeeze a few drops of alcohol ink into a plastic bag, squash it around, then let it air-dry and start with Step One! Try combining different colors (I obviously didn't get to choose) or even throwing in some Perfect Pearls…
Enjoy!