Art and Soul Portland 2011! Think Inside the Box
25 Wednesday May 2011
It seemed like ages ago that I sent in my workshop proposals to teach at Art & Soul in Portland. Now, September is coming up fast—and I've got class kits to build and handouts to prepare, and lots of collage packs and goodies to assemble for my Vendor Night table.
On Thursday evening, I'm teaching "Think Inside the Box (or Bag) Tag Challenge". (This might or might not win for longest workshop title.) Below are just a few examples: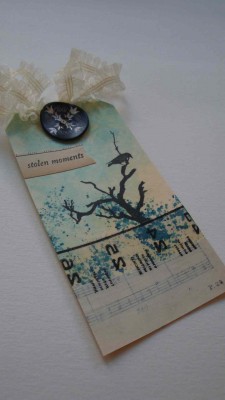 You know how sometimes having all the supplies in the world to choose from can just be overwhelming—and ultimately, kind of stifling? This workshop challenges you to work within a set of limitations to see how that approach can jump-start creativity. We'll think "inside the box", as everyone will get a bag of collage materials (including some fab stuff from Helga at ArtChix Studio), a theme and a set time to create a tag project. We'll have enough stuff and enough time to make quite a few tags, and I'm really looking forward to seeing the results!
The workshop is from 6:30-9:30 on Thursday, September 29 and should be a blast!
Oh, yes—and for those who read the description online and asked what Dutch window clings are…well, they're a frosted type of plastic cling that people put on their windows so nosey passers-by can't see in, but you still get the benefit of natural light coming through the window. We're going to be stamping on them, like the butterfly image in the example above.
Hope you can join! For more info, click here:
http://www.artandsoulretreat.com/Portland-2011-art-workshops/2065/index.htm