Artist Interview: Serena Barton
01 Saturday Jun 2013
Wabi what?
Artist Serena Barton takes on traditional mixed-media techniques with a new approach—one I love, because it's all about celebrating the imperfect.
Serena recently published her book, Wabi-Sabi Art Workshop: Mixed Media Techniques for Embracing Imperfections and Celebrating Happy Accidents.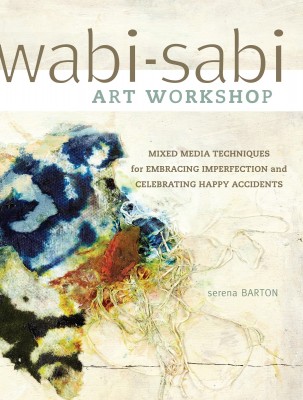 Embracing imperfection? Huh, the title might as well be: Sara Naumann, Pick Me Up and Read Me Now.
No, Really…Wabi What?
Wabi-sabi is a Japanese aesthetic focused on the beauty of imperfection. Like most people who love vintage things, I appreciate imperfection pretty much everywhere except my own work. You laugh, but I know I'm not the only one with an Inner Critic nagging away at me as I create.
But Serena's book isn't one of those books that tell you: "just be free and create!" While wabi-sabi is the art of embracing imperfection, Serena addresses issues of color, shape, texture, composition and more. Then she guides us through 8 chapters with a focus on painting technique and composition.
I'm excited about this book, so I was really pleased to connect with Serena. (Who is also a fellow Oregonian!)
Q: Tell me a little more about the concept of wabi-sabi.
The term wabi-sabi comes from two Japanese words and refers to that which is imperfect, impermanent, aged, humble, and authentic. Both nature and human made objects may have wabi-sabi qualities. Wabi-sabi is an aesthetic which values the passing of time, the seasoning of time and the elements, the handmade and the simple. Wabi-sabi is a way of  being open  to emotion and acceptance.  Wabi-sabi is a state of mind and a state of feeling.  I find this state of being expressed in traditional  haiku poetry which can express a world of seeing, listening, smelling, tasting, and feeling in the recording of a single moment.
Q.  Many of your pieces are abstracts. What draws you to that style?
That's a question I've been pondering myself. When I first started painting my work consisted of portraits, narrative work, figurative work and still lifes. Now I'm working in abstraction in a totally intuitive way. I don't have any preconceived idea about what the work will end up being. I like the challenge and the freedom of this approach. I want to express in my pieces what I can't in words. I see my work as influenced by paintings of the Renaissance and other eras, by wildness in nature, by aging buildings, and by layers of life and emotion.
Q: The book focuses on painting…are the concepts applicable for those new or unfamiliar with painting, or those who do other types of mixed-media?
I hope the book will be interesting to both new artists and experienced ones. Some of the projects involve only painting, but many incorporate a wide variety of media, both 2- and 3-D. Note: Serena's pictures shown here are made with alcohol ink re-inkers and glaze. How cool is that?
Q: What's your best piece of advice for artists?
A: Keep creating, even when you don't feel like it. Get out and look at art, nature, and life. Share support with other artists. Be willing to experiment, and make mistakes. Laugh a lot.
Q: Tell us one design element/composition guideline that you find you often incorporate.
Right now I'm playing around a lot with the landscape format. Sometimes my work suggests actual landscapes and at other times it's simply a format I like.
Q: What's your favorite place in all the world?
A: Tied for first place are Italy, Taos, NM, and the Oregon Coast.
Q: What's the most inspiring trip you've ever taken or adventure you've ever had?
A: As I often mention when asked my bio, my first trip to Italy was the turning point of my life. That was when I knew I had to (re-)learn to make art.
Thanks, Serena! I'm so glad we had a chance to connect!
Serena's new book, Wabi-Sabi, is out now from North Light Publishers. Check it out there, or pop on by Serena's website or her blog for more information.
Serena also says:
You can order a signed copy from me with a bonus of a little packet of collage materials for your own wabi-sabi work. Use the Paypal button under the book listing on my Classes page. Shipping in the continental US is 4.00. The book is also available from
createmixedmedia.com
and from
amazon.com
. You can view a sample chapter at
createmixedmedia.com
as well.   To purchase the book from me:
http://www.serenabarton.com/classes.php
I have a new site for the book where I'll post reader's questions, comments, art work, and my own art work and photos, plus wabi-sabi musings. http://wabisabiartworkshop.blogspot.com.  I'm announcing a giveaway that I'll do on that site and also on http://serenabartonsblog.blogspot.com.