Beyond Words Raffle Prizes: A Chance to Win!
17 Thursday Oct 2013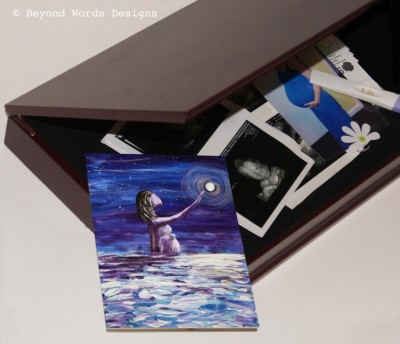 Hey everyone,
I wanted to share a project that my art friend Stephanie Dyer is working on. She creates Art Cards for doctors and midwives to give to mamas who lose a baby–whether that's through miscarriage, stillbirth, birth defects or SIDS. Her art cards are beautiful, and the message is to bring connection, comfort and solace to families who are grieving. Steph is having a fund-raiser to donate art cards to grieving families all over the world. She can describe her mission better than I can, so pop on over here to see her story.
To raise funds, she's compiled several Prize Baskets available by raffle. Take a look and if you are so called, feel free to get a raffle ticket. Or just send some good wishes to Steph for her work. Entry to any of the 9 raffle baskets is $1 and each dollar allows her to print 5 Art Cards, touching 5 families. Here are deets on the raffle—please note, because of shipping issues, it's only open to US residents. Anyone, however, can donate. 🙂
(Winners are drawn on October 25!)
I've donated three Kick Start Art Journaling e-courses; these are in the Angel Mom Basket, Still a Mother Basket and the Miscarriage Basket. All of the baskets are packed with amazing things, and there really is a little something for everyone.
Steph says: Due to technical issues, you may see the text "IPhone Cases" if you copy and paste my home page from my website directly (http://beyondwordsdesigns.com/ ).  I have had my best people on this and cannot currently fix this issue.  So, I ask that you please forgive this 'hiccup' and go to any of the 9 individual raffle groups listed above and copy and share these pages separately.

Many thanks to you and to Steph for doing such beautiful work in this world.