Bonus! Surfacez Botanical Card
21 Tuesday Jan 2014
I spent a day teaching at the Clearsnap booth last week at CHA. My classes were all about the new Surfacez inks—have you had a chance to try these? I've been playing with them for a couple of months and I've had a ton of fun discovering all the cool looks and techniques you can do with these versatile inkpads.
(Okay, actually: I'm sort of addicted.)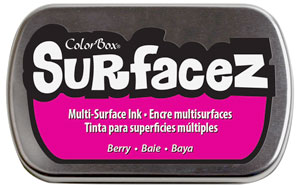 Here's why they're always on my table: This is one of the most versatile inkpads ever. The Black is indispensable as you might expect—but the other colors (which are lovely, lovely colors) are absolutely perfect for background and coloring techniques.
Here's the thing about Surfacez. They're meant to work on all kinds of surfaces—so, on porous materials like paper and cardstock as well as non-porous surfaces like acetate, vellum, plastic and glossy cardstock. What I really really like is that although they dry right away on non-porous surfaces, they still havesome blend-ability. This means you can brayer or do direct-to-paper inking with them as well.
For this card, I've brayered the background and the acetate and done some simple spot-coloring on the focal image. Oh yeah, I stamped that with Surfacez too!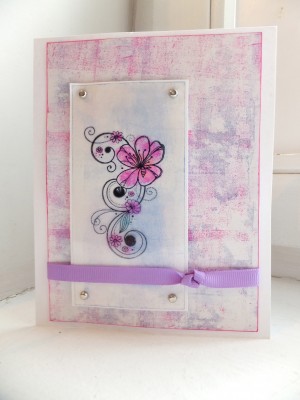 Shall we just get started?
1. Brayer a 6 1/4″ x 4 1/2″ piece of glossy cardstock with Berry. Repeat with Dolphin. Ink the edges with Berry.
2. For the focal: Brayer a 2 1/4″ x 4 3/4″ piece of acetate with Bluebell. Ink the edges. Stamp the flower with Black.
3. Turn the acetate over. Wrap a damp baby wipe around your index finger and tap it onto the Berry ink, then tap again in the center of the largest flower, gradually applying color on the entire blossom. Color the small flowers with Berry.
Note: The spot-coloring is meant to be imperfect. It's virtually impossible to get color perfectly inside the lines with this application! 
4. Repeat the technique to color the leaves with Ponderosa.
5. Mat the acetate piece on white cardstock, attach with brads and add to brayered background with foam tape. Wrap with lavender ribbon, then glue to the front of the blank card.
Supplies:
• Surfacez inks: Berry (pink), Dolphin (blue), Black, Ponderosa (green)
• Stamps: Serendipity Flowers from Paper Wishes
• Glossy cardstock, white matte cardstock
• Acetate
• Silver mini brads
• Lavender grosgrain ribbon (7")
• Brayer
• 5" x 6 ½" blank card from Paper Wishes
Hope you enjoyed the techniques and the bonus project. For more info on Surfacez, contact your local retailer or pop on over to Paper Wishes.