CHA 2014 Recap!
20 Monday Jan 2014
Written by Sara Naumann in CHA
I'm just back from CHA, the Craft & Hobby trade show that comes to Anaheim, California, each year. This is where craft manufacturers, retailers, buyers, designers, editors, bloggers, sales agents, craft educators and everyone in the craft industry comes together to meet, talk, plan and inspire each other.
Yeah, it is just as awesome as it sounds.
I go to the show to meet with editors, see new products, take classes and network. Yes, it is a long way (a 24-hour journey from Poland, heaven help me) but it's really the most important way to stay connected in the industry. So now that I've done the reverse 24-hour trip and finally made it back to Poland (and had a nap), I can share a few photos and recap with you!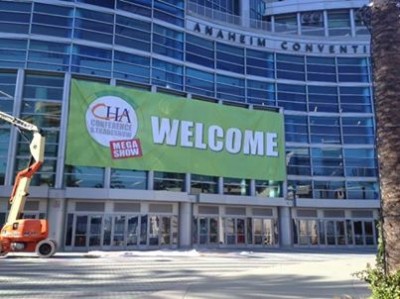 The super-gigantic welcome sign at the convention center.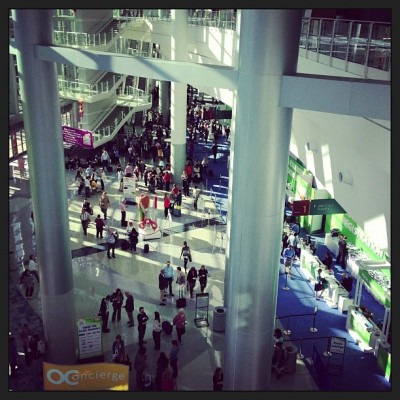 This is what the lobby looked like as they let people in.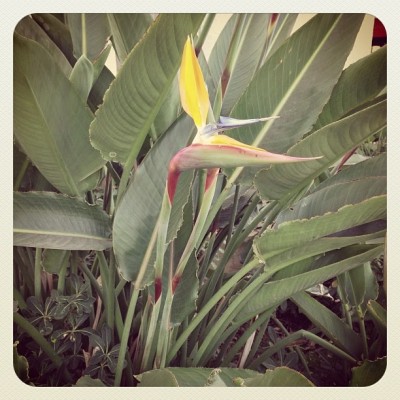 My hotel was a 10-minute walk from the convention center, so I could enjoy the gorgeous weather each morning and evening. (And take pictures!)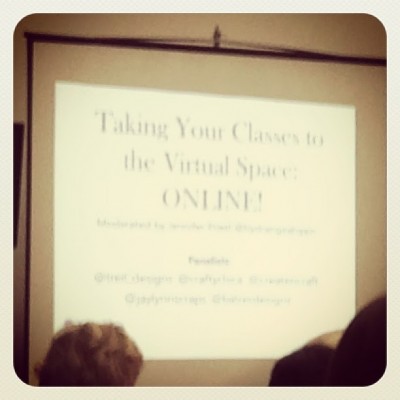 I am all about education at the show and take lots of classes and seminars. This one was moderated by Jennifer Priest of Hydrangea Hippo, and included Julie Fei-Fan Balzer, Traci Bautista, Joe Rotella, Kathy Cano-Murillo and Jamie Lynn Dougherty.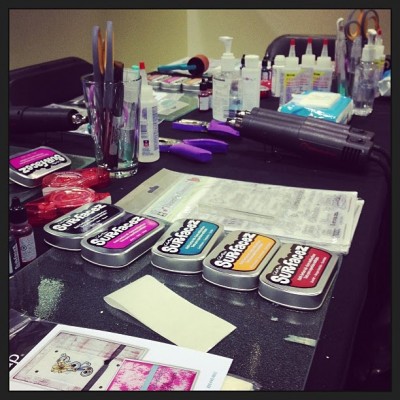 I taught three classes for Clearsnap, using their new Surfacez inks. (Love these inks, they're designed to work on porous and non-porous surfaces. We used them on acetate, glossy cardstock and to color Dazzles™ metallic stickers.)
A full house on each class! (Note: I showed this picture to Anna, who asked what I was doing. "Teaching these people about ink pads and stamping," I said. Her incredulous reply: "They don't know about ink pads and stamping???")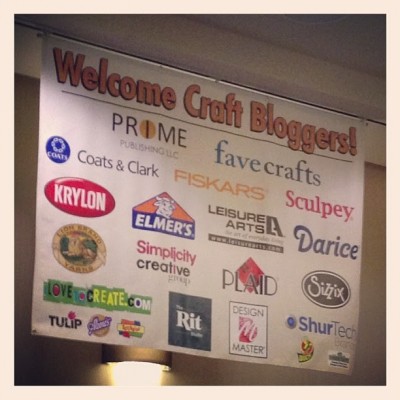 I was invited to a blogger event one evening, sponsored by all the companies you see up here—it was a fabulous party and a great way to connect with companies who want to work with designers to share tips and tutorials to teach people about their products. It was super-inspiring and I had a chance to talk with a lot of these companies. *spoiler alert: You'll see some of them in upcoming articles and on Studio SN on You Tube!*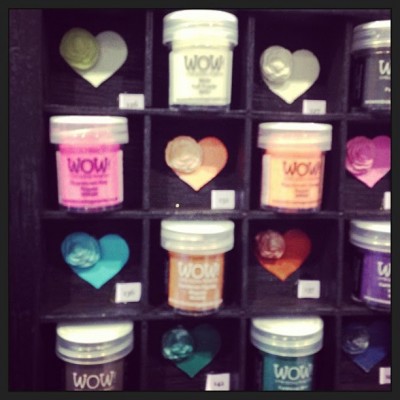 I am a fiend for a good embossing powder and WOW embossing powders are the best. Great color, easy to use and just the right fine-ness. (You know what I mean by "fine-ness", don't you?) Plus the WOW people are just nice people, and that goes a really long way in my book.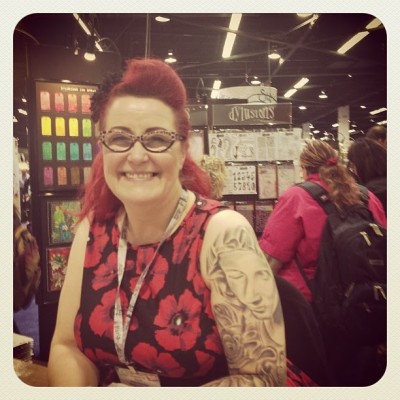 Chatted with the fabulous Dyan Reaveley, who was demonstrating at Ranger. Her newest Dylusions color is gray, which I am super-duper-excited to try. Swoooon.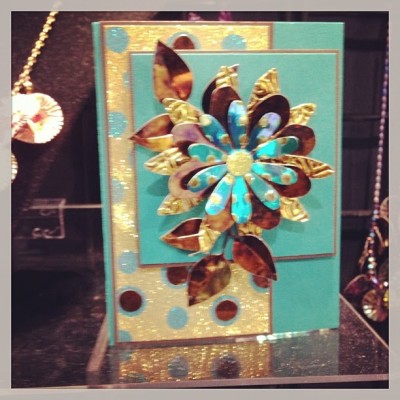 I love love love Elizabeth Craft Designs, and they have fabulous Shimmer Sheetz and dies. They're also working with designer Karen Burniston for some really cool dies to make pop-up cards.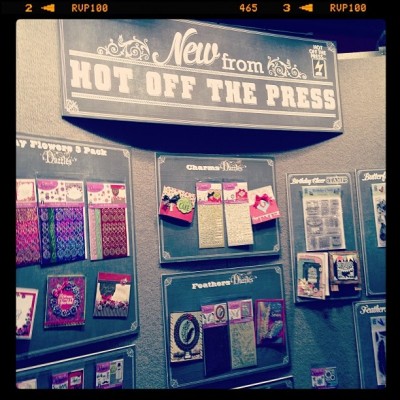 Hot Off The Press is all over the trendy chalkboard look and showed their newest releases. (Which I'm already using in my upcoming DVD for them, yay!) Of course Paulette and I had to do dinner as well, and catch up on the latest.
Indigo Blu is from the UK and they have a very cool Flitter Glu kit. You stamp with the glue, then apply the gilding flake and it's the simplest technique and the most gorgeous look. I'm writing about it for an upcoming article in CardMaker magazine! (Editor Tanya Fox and I were totally swooning, watching Kay's demo. But craft-demo swooning is actually normal behavior at CHA.)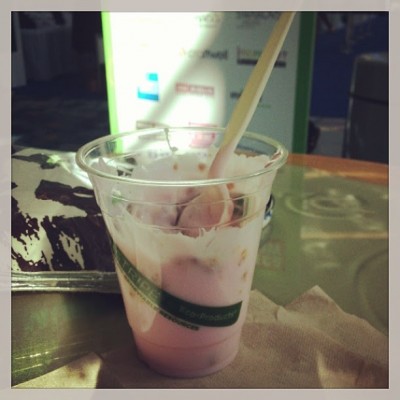 Trade show food is notoriously bad (hot dogs!) and expensive ($9.00 hot dogs). In that case, I'm going for yogurt.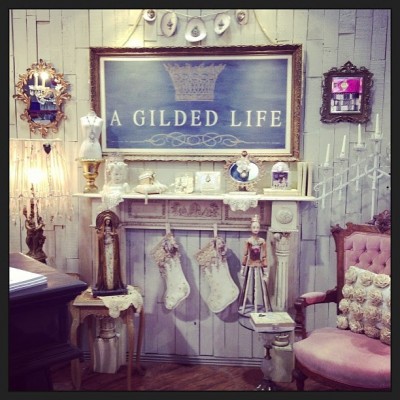 This is one tiny part of the giant and very sophisticated Spellbinders booth. They had "rooms" sectioned off for different kinds of homes and lifestyles, from this European apartment to a woodsy cabin, all decorated to the hilt with really innovative designs. I mean, I will never look at a metal die in the same way. They blew me away with the art in this booth. I could have stayed forever, poking around and inspecting each piece!
It's just not California without palm trees, is it? Oh my gosh, the weather was perfect. Okay, back to "work"…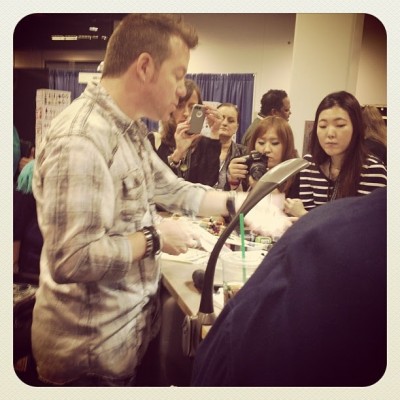 The ever-gracious Tim Holtz at Ranger, demonstrating his new Distress Marker Spritzer, which is suuuuuuuper-cool and which I cannot wait to try out.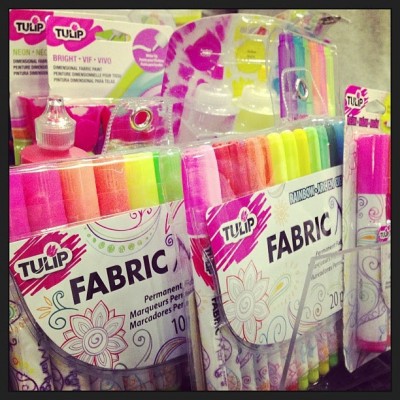 I've had this vision in my head of making fabric journal covers and decorating them with pens and stencils and kind of a graffitti-style writing—lots of bold color and design. Then when I saw these fabric markers from ilovetocreate, I was like: serendipity!!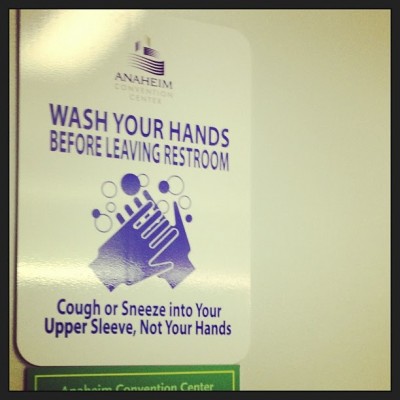 I talked to my mom on the phone while I was at the show and she gave me a long lecture about not shaking hands with people who are coughing. Well, a trade show is all hugs and handshakes and borrowing someone's pen and touching the same side of the escalator so it's virtually impossible to avoid germs. Which is why I came home with a cold. Don't tell my mom.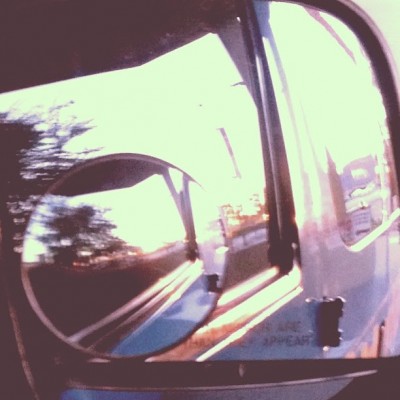 The view from the rearview mirror on the shuttle van that took me to the airport…three hours before my flight to San Francisco, because the freeway was backed up to the end of the earth. "Welcome to our parking lot!" said the driver cheerily as we inched along. Okay, I'll take the weather but this traffic is a nightmare.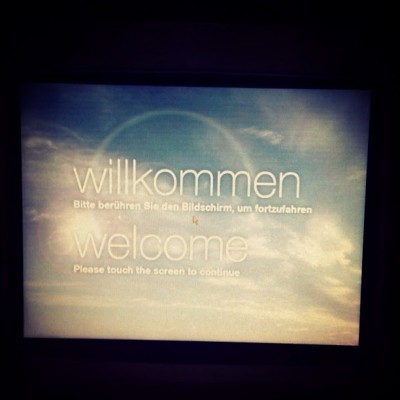 Oh, Lufthansa….thank you for making my 24-hour journey just a little bit nicer. It's a very long couple of flights regardless but I am forever a Lufthansa kind of gal.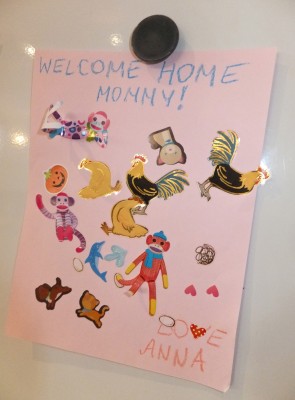 And it was just pretty awesome to come home to a handmade card from Anna, complete with a selection of her favorite stickers.
Okay, that's a wrap! To keep up on the projects I'll be working on from the show, be sure to connect with me here:
Happy Monday!