Color Fun! Fast, Fabulous Techniques with Gelatos – Intro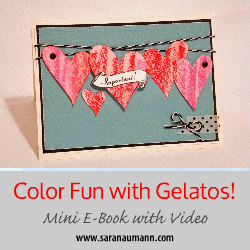 Color Fun: Fast, Fabulous Techniques with Gelatos®
Create color with gorgeous gelatos!
Love Gelatos®? Bought a pack and don't know what to do with them? Then join me for a video e-book featuring step-by-step projects using these versatile pigment sticks!
In Color Fun, you'll learn how to stamp with Gelatos®, created blended backgrounds, brayer, layer and spatter—5 easy-to-do techniques, on 5 beautifully diverse handmade cards. (Plus one bonus card…I just couldn't stop!)
Even better? You'll have a downloadable PDF e-book with complete step-by-step instructions for each card project—plus links to instructional videos that show exactly how to do each technique. Of course there's a basic "getting started" video too!
The Color Fun Video E-Book is available now! Once you purchase, you'll get the 9-page book as a downloadable PDF to read again and again; links in the document take you right to the videos so you can start getting inspired right away!
Price is $12.99.