Create & Craft Demo: Labels & Frames Stamps
13 Wednesday Jul 2011
Here's another demo I didn't have time for on Thursday's show…this one shows the Labels & Frames stamps, which sold out in nanoseconds. If you were quick enough to get yours, good for you! If not, I still wanted to show you this idea, so here you go…
First, the star and "thank you" sentiment are stamped onto both peach and teal papers with black ink. The two stamps are separate, so you could put any sentiment from the set into the star. Trim the peach paper into a square and ink the edges using a makeup sponge and Pine Needles Distress ink. Cut out the teal star, leaving the black edges showing.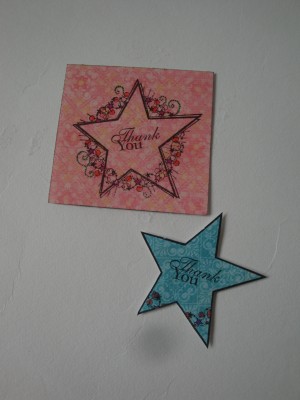 Use pale pink and lavender Marvy Markers to color the circles around both stars. I used pale green marker to make tiny dots of color around the swirls on the peach star.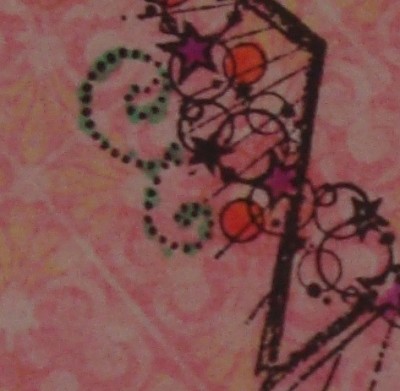 To make the card, I covered a 5"x6 ½" blank card with the border paper, aligning the border with the fold of the card. Glue the peach paper to the card front, then use foam tape to attach the teal star slightly offset from the star below. Tie a knot in a piece of green grosgrain ribbon and attach with a Glue Dot.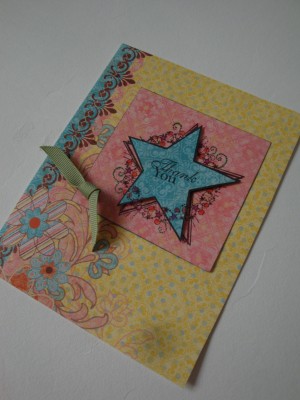 The patterned papers are from the Cardmaker's Dream Come True kit. The stamps are Labels & Frames from HOTP. Enjoy!