Create & Craft Demo: Stamp & Punch Stamps
14 Thursday Jul 2011
Here's another stamped card that I put together really quickly, but didn't have time to show on Create & Craft last week. This card is using the Stamp & Punch stamp set—it's another set that sold out, but I still wanted to show you a quick and easy idea.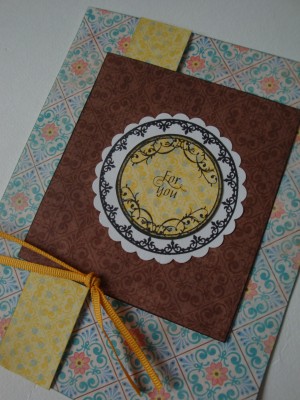 The card front is covered with the tiles paper—funny, I don't know that I would normally gravitate toward teal and peach as a color combination, but I really love this paper. I added a strip of yellow paper, then used a cosmetic wedge to ink around the edge of the card with Pine Needles Distress ink.
(By the way, Pine Needles is a surprisingly versatile color, more so than I imagined. And when you use a cosmetic wedge to ink the edges, the color goes on super-soft, but still gives the dimension.)
The card focal is a circle and "for you" stamped on yellow, which I cut out. This piece is matted onto a larger circle that has been stamped on white cardstock, then punched with a large scallop punch. Pop the two together and glue them to a square of brown patterned paper (also with Pine Needle'd edges) and add to the card front. A little yellow ribbon is knotted together and Glue Dotted (don't you love my new verbs?) to the card front.
The patterned papers are from the Cardmaker's Dream Come True kit. The stamps are from the Stamp & Punch set.
Enjoy!