Creativity Quote Art Journal Page
12 Friday Apr 2013
I love this quote from writer Maya Angelou: "You can't use up creativity. The more you use, the more you have." May Angelou has been one of my favorite writers since I was fifteen and read I Know Why the Caged Bird Sings in English class. She recently turned 85 and is still the coolest person I can think of. Of course she has a brilliant comment on creativity—I really believe that creativity is more of a muscle than anything else, and that the more we exercise it, the stronger it gets, so I love her take on the idea.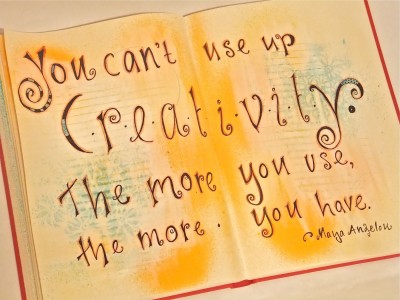 I made the background by spraying Pure Sunshine Dylusions, then spraying Vibrant Turquoise Dylusions through a stencil. I didn't like the way it looked, so I painted over with white acrylic paint; while the paint was wet, I pressed a piece of corrugated cardboard into it to get lines. I used a fine-tip black pen to write the quote, then outlined it with Barn Door and Broken China Distress Markers.
Writing quotes is one of my favorite ways to art journal. It's personal and meaningful, and you can play with illustrating the letters…even if you don't like your handwriting. (I hate my y's!)
I'm also starting a new round of Kick Start Art Journaling this Sunday—I'd love to have you join us in this 6-week-long online course (it's just $15.00!).