Eclectica Monday: ESN07 Lazertran Photo Collage
09 Monday Sep 2013
Welcome to Eclectica Monday!
(If you're new to EM: I worked with Paper Artsy to create a range of stamps. They're designed to be used for art journaling and cardmaking…and whatever else you can think of! In this blog series, I want to share a few project ideas for using the stamps. Today we'll explore with ESN07.)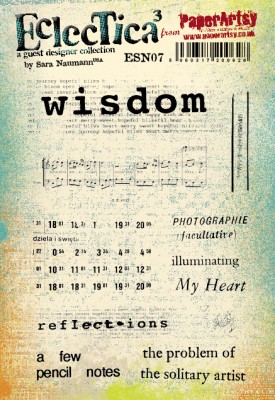 I could use "a few pencil notes" on basically every card or design I do but will refrain from it, for this project.
Oh, wait…I just realized I did use that stamp. See? I can't resist.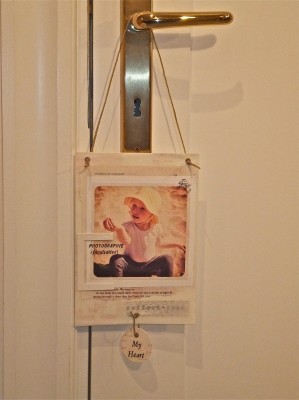 Today I wanted to show you a simple collage that I have hanging on my office doorknob. The stamps play a supporting role here. The piece is about 5 3/4″ by 8 1/4″ and the loop string gives another 6″. My photo is an Instagram photo printed on Lazertran, which are two additional obsessions of mine. How handy I can combine them all on one project. 🙂
Okay, let's go. Here's what you'll need—
• Eclectica ESN07 from Paper Artsy
• White tissue paper
• Lazertran Waterslide Decal paper for inkjet printers from Lazertran. Note: Those of you in Europe and the UK can order from Lazertran; in the US, you can get it from Amazon.
• Bubblegum inkpad from Clearsnap
• Archival Black inkpad from Ranger
• Slide mount
• Book paper
• White cardstock
• Circle punch
• Eyelets, twine
• Shallow container with warm (not hot) water
• Lint-free towel or paper towel
• Mod Podge or gel medium
• Emery board
Here's what I did:
1) Print out the photo onto Lazertran Waterslide Decal Paper. Note: I have an inkjet printer, so I'm printing onto Lazertran for Inkjet Printers. Let the ink dry (I let it sit for about half an hour) then trim and soak it in a shallow container of water. The liner will start to separate from the photo. Slide it off and pat onto towel or paper towel.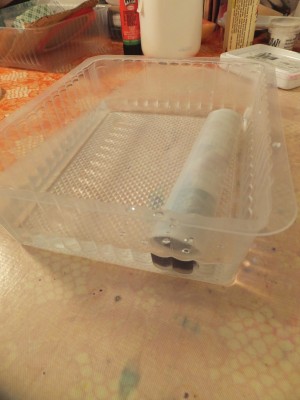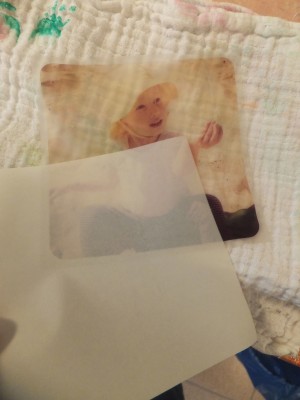 2) Cut a square of cardstock and glue the photo on top. Apply a thin coat of Mod Podge to the paper rather than the photo, otherwise you can get a sticky mess. My photo is 4 1/2″ square and I left about a 1/4″-wide border around the edge. Let dry.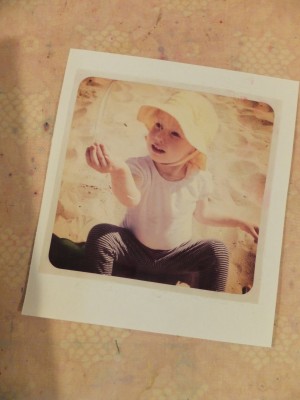 3) Brayer the book paper with pink, then tear the bottom edge.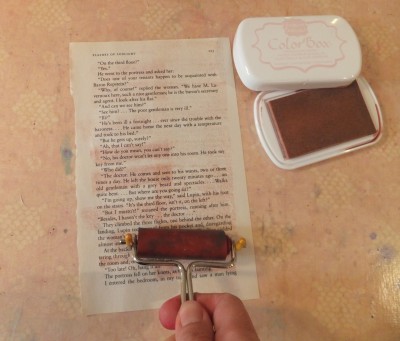 4) Glue the photo onto the text paper.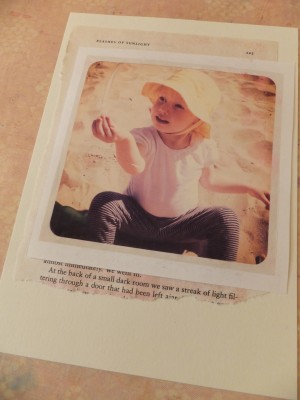 5) Stamp "reflections" on the torn-off piece of the book page. Note: I stamped it upside down so I have some of the printed text reading one way, and the word reading another way.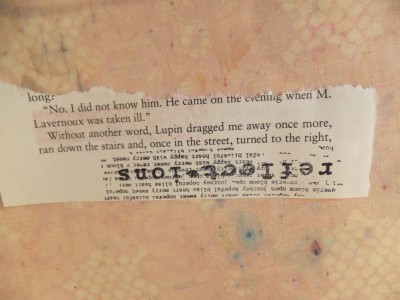 6) Brayer a 5 3/4″ by 8 1/4″ piece of heavy white cardstock with pink. Stamp "a few pencil notes" in pink, then stamp the time table twice.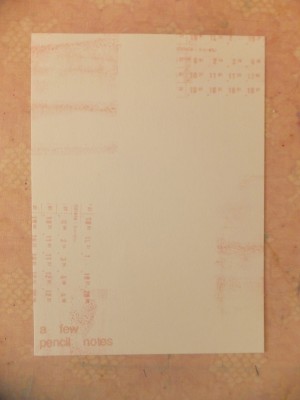 7) Glue the "reflections" word at the bottom right.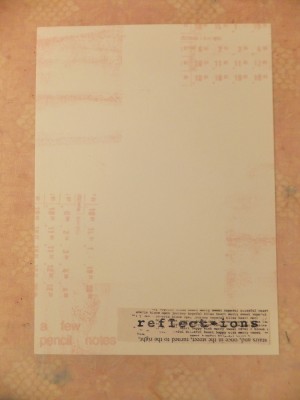 8) Position the tissue paper on top of the stamped cardstock. Glue the text paper and photo onto the tissue paper, then turn the tissue paper over and place adhesive where it won't show through.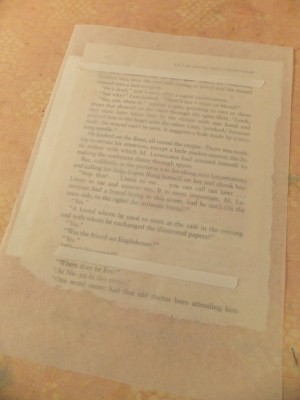 9) Add eyelets at the top. Stamp the postmark at the top right of the photo and the Photographie stamp on the left.
10) Add twine through the eyelet holes. Cut a slide mount in half and glue to the left side as shown. Use the emery board to gently sand off some of the Lazertran photo.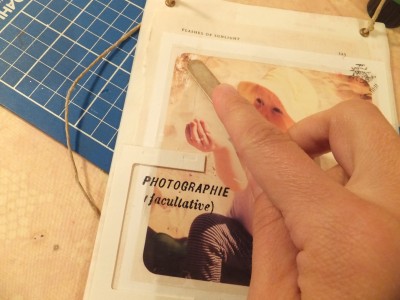 11) Add another eyelet at the bottom of the piece. Punch a 1 3/4″ circle of white cardstock and stamp the time table in pink. Stamp "my heart" and cut apart, then glue to the circle. Add an eyelet. Thread with twine and attach to the main piece.
Here's another look: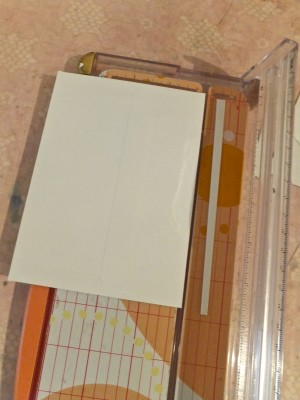 That's it—hang your treasure from a doorknob or bulletin board. Simple, easy and a great way to incorporate photos into your decor.
Oh, yes—the Eclectica stamps are available worldwide from Paper Artsy; if you're in the UK or Europe you can also find them at Paper Artsy retailers.
Happy Monday!