Eclectica Monday: Experiment Art Magnet
07 Monday Oct 2013
Welcome to Eclectica Monday!
(If you're new to EM: I worked with Paper Artsy to create a range of stamps. They're designed to be used for art journaling and cardmaking…and whatever else you can think of! In this blog series, I want to share a few project ideas for using the stamps. Today we'll explore with ESN04.)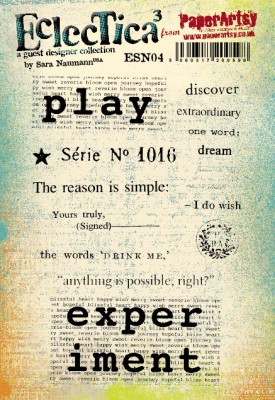 This week I wanted to share a technique I just discovered that I'm calling a Craft Sheet Swirl. I also wanted to  show how you can use the Eclectica stamps to create a little inspirational piece to hang in your studio or creative space. Mine is hanging on my filing cabinet with magnets, but you could also display it other ways too, in a frame or on an easel. Or make it into a card!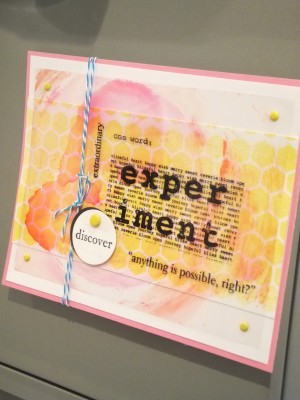 What you'll need:
– ESN04 Eclectica stamps from Paper Artsy
– Punchinella 12″x 12″ stencil from The Crafter's Workshop
– Spectrum Noir pens from Crafter's Companion: Reds Collection
– Heat Resistant Acetate from Crafter's Companion
– Pure Sunshine Dylusions from Ranger
– Cardstock: White, pink
– Blue baker's twine
– Blending Solution from Ranger
– Jet Black Archival Ink from Ranger
– Bubblegum ink from Clearsnap
– Yellow brads
– 1 3/8″ circle punch
– Foam tape
Here's what to do:
1) Scribble the various red pens onto your craft sheet. Add a tiny, tiny bit (a couple of drops at most) of Blending Solution. Press a 5 1/2″ x 7″ piece of acetate onto the craft sheet and twist in a circle. Lift and let dry. (This will take only a moment.)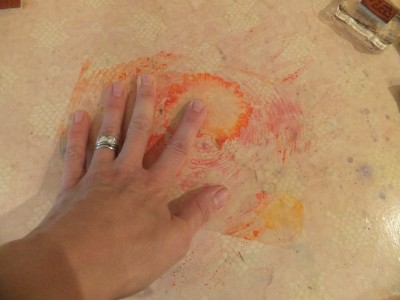 2) Turn the acetate over and stamp. You'll need to let the stamping ink dry—since the acetate is heat-resistant, you can also zap it with a heat tool to speed up the process. I find it's easier to see placement if I first put the acetate onto a piece of white scrap paper.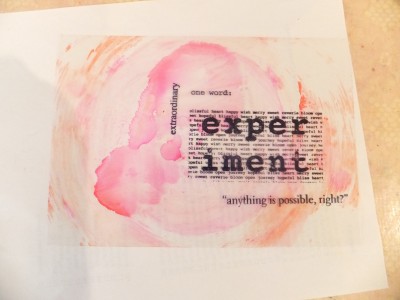 3) Place the stencil onto white cardstock and spray with Dylusions. Blot and let dry. Cut to 4″ x 7 1/2″. Mat onto a 6″x 7 1/2″ piece of white cardstock. Mat onto pink cardstock.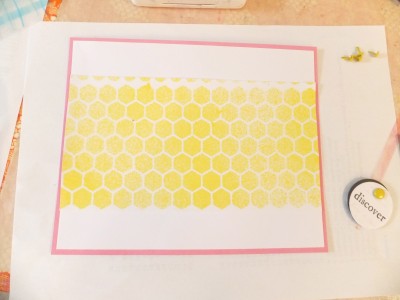 4) Stamp the script onto white cardstock, using Bubble Gum pink. Stamp "discover" on top with black. Circle-punch, then circle-punch a piece of black cardstock. Glue the two offset, then add a brad. Glue to the acetate piece with foam tape.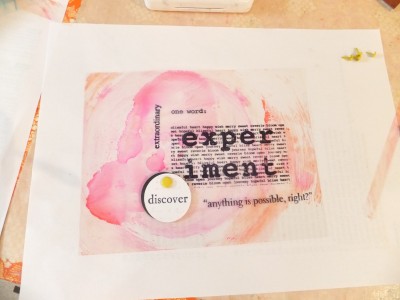 5) Place the acetate piece on top and secure with brads.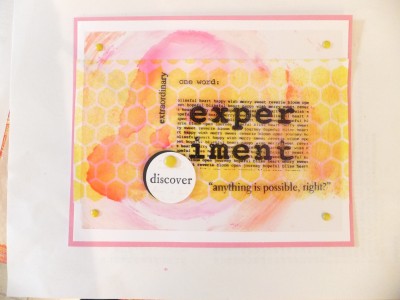 6) Wrap with baker's twine. Add magnets on the back to hang on a fridge or filing cabinet.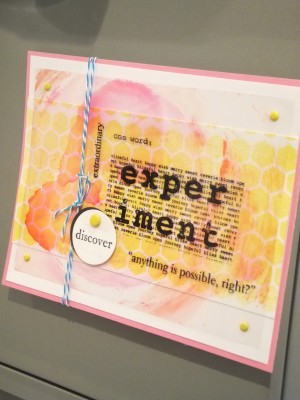 Here's a quick close-up: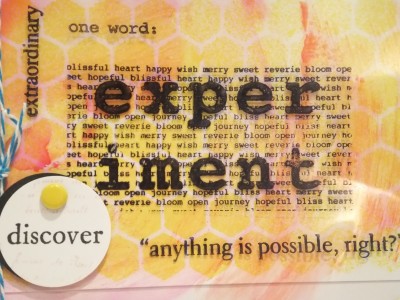 Oh, yes—the Eclectica stamps are available worldwide from Paper Artsy; if you're in the UK or Europe you can also find them at Paper Artsy retailers.
Happy Monday!