Eclectica Monday: Upcycled Journal with ESN08
14 Monday Oct 2013
Welcome to Eclectica Monday!
(If you're new to EM: I worked with Paper Artsy to create a range of stamps. They're designed to be used for art journaling and cardmaking…and whatever else you can think of! In this blog series, I want to share a few project ideas for using the stamps. Today we'll explore with ESN08.)
I love this set because it works so beautifully on scrapbook pages, altered books, and art journals…basically, anywhere you have "words" and "images" to equal a story.
So today I want to show you how I used these stamps to make a little upcycled notebook. This is super-easy to do and it makes (in my case) a great place for all that recycled scrap paper. It also uses these cardboard pieces I keep saving for no apparent reason. And, I wanted to play with tone-on-tone stamping and the chalk ink from Clearsnap is perfect for this.
One last thing? This binding is terrific because it's really easy to do, and you can add pages or take them out as you choose.
Okay, onto the project!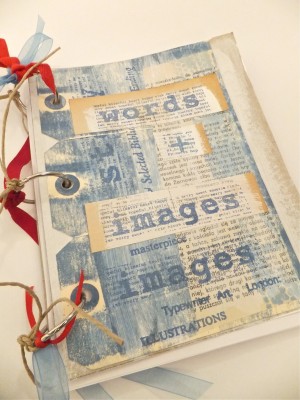 Here's what you'll need:
– Eclectica stamps ESN08 from Paper Artsy
–  Three manila tags
– Brayer
– Colorbox Chambray Chalk inkpad from Clearsnap
– Book paper
– White acrylic paint
– Ribbon and metal book rings
– Standard size hole punch
– Lightweight cardboard fro book covers (think cereal-box weight)
– Paper to put in your journal
Here's how I made it:
1) Brayer three manila tags with Chambray ink and let dry.
2) Tear a strip of book paper and glue to the right side. Apply a light touch of white acrylic paint. Let dry, then stamp the words in Chambray as shown.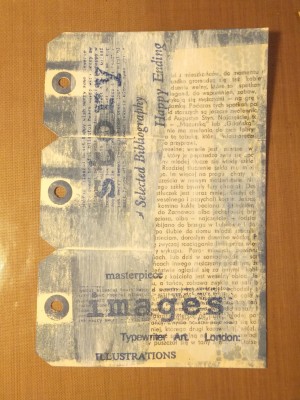 3) Paint a book paper with white acrylic paint, then stamp the words. Cut out and glue to the tags.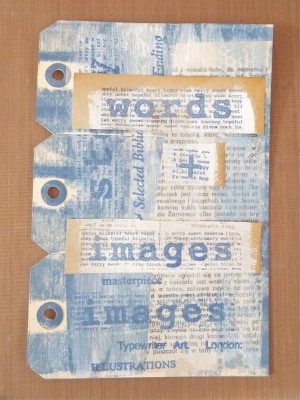 4) Cut some cardboard pieces to size (mine are 6 1/4″ x 8″). My covers are the backs of paper pads—they're lightweight (so I can punch through them) but still sturdy enough for taking the paint.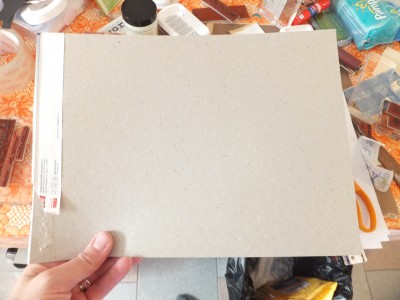 5) Paint them white and let dry.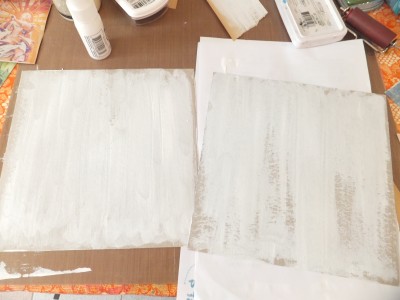 6) Glue the tags to one of the covers and re-punch the holes from the tags through the cardboard.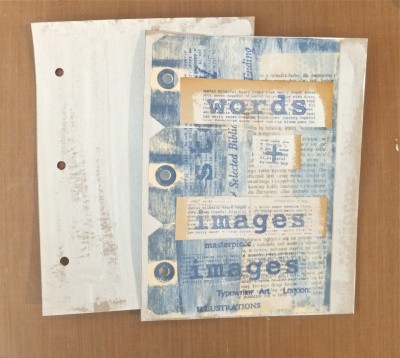 7) Cut your paper slightly smaller than the book covers and use the cover as a guide to punch the holes.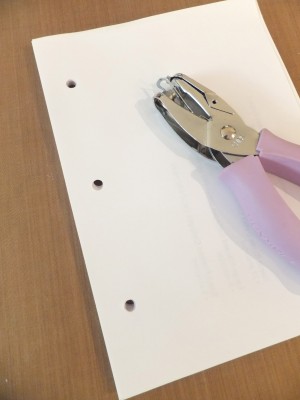 8) Stack the paper and covers, then bind with the metal rings. Add some ribbon (I like the contrast of the red and blue) and you're set!
Oh, yes—the Eclectica stamps are available worldwide from Paper Artsy; if you're in the UK or Europe you can also find them at Paper Artsy retailers.
Happy Monday!