Gelato E-Book
Color Fun: Fast, Fabulous Techniques with Gelatos®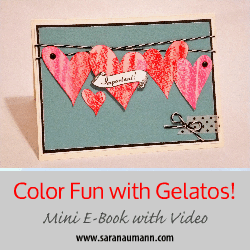 Create color with gorgeous gelatos!
Love Gelatos? Bought a pack and don't know what to do with them? Then join me for 5 fast, fun card projects using these versatile, easy-to-use pigment sticks!
In Color Fun, you'll learn how to stamp with Gelatos, created blended backgrounds, brayer, layer, spatter and more!
Even better? You can use the book two ways: First, you'll have a downloadable PDF with complete step-by-step instructions for each card. You can also watch an instructional video for each technique.
Gelatos make it fast and easy to add rich color and dimension to your projects—come along and see!
The Color Fun Mini E-Book is available now! Once you purchase, you'll get the 9-page book as a downloadable PDF to read again and again.
Just $7.99!
Gelato E-Book Preview