Happy Valentine's Day!
14 Thursday Feb 2013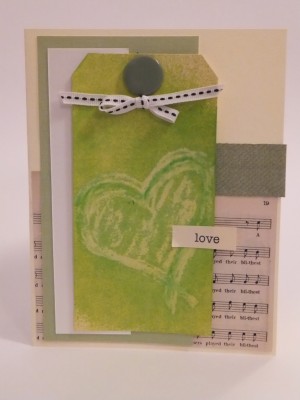 Happy Valentine's Day!
Of course, not all Valentines have to be pink or red…my husband's favorite color is green, so I used this fun color for his Valentine card. The resist technique was accomplished very easily, but only after about 6,000,000 unsatisfactory results (this might be a slight exaggeration) when the lightbulb finally clicked for me.
(Please tell me I'm not the only one with rejects scattered all over the desk.)
I used a Portfolio Oil Crayon to draw the heart and scribble inside, then sprayed with Dylusions Fresh Lime spray. The "love" stamp is from Hot Off The Press. The rest of the card is made with scraps of sheet music and cardstock.
Hope you have a lovely day!
PS. The (successful) oil pastel resist technique will be part of my upcoming e-book, Irresistible Resists, available in March. You'll learn 10 techniques for creating resists. Even better? It's just $5.00!