Inspiration Monday: Creative Podcasts
30 Monday May 2011
Today being Monday, it means Miss Anna is at kinderdagverblijf —daycare—and I'm up to my eyeballs preparing for Create & Craft next Monday. I just got a huge box of samples from Hot Off The Press, and spent the weekend plowing through to get the demos prepped and organized.
When I'm in the studio—whether I'm organizing things or actually creating—I listen to a lot of podcasts. I can't listen to music while I work…it distracts me and really affects my energy level. But podcasts? Perfect.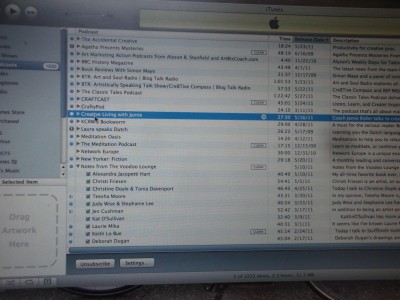 I listen to several regularly, from Craftcast to CraftyPod to Art & Soul Radio—but the two podcasts I always keep up with are Creative Living with Jamie and Notes From The Voodoo Lounge.
I love Creative Living with Jamie—she's doesn't so much interview guests as she does talk with them, so you really feel like you're part of a conversation. She's also got this soothing manner that has a Pavlovian-calming effect on me. You get the feeling she's never, ever frazzled.
I also love Notes from the Voodoo Lounge, with Ricë Freeman-Zachery, who writes for Somerset publications and wrote Creative Time & Space, which I bought myself as a gift last year. She also talks with artists—some of whom I know, and a lot I don't know, which is a great chance to learn about people you don't see in the magazines. And a small point: I once emailed her when I was pregnant and over-emotional, thanking her for her work on the podcasts—they're free, after all—and although I might have sounded like a sappy lunatic, she emailed a very kind response.
Both Creative Living with Jamie and Notes from the Voodoo Lounge have a lot of archived podcasts, so you can stock up and listen away! Now it's back to the pile of samples for me…