Inspiration Monday: Morning Pages
17 Monday Oct 2011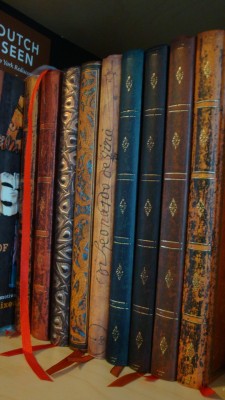 I think I've mentioned before how partial I am to Julia Cameron's "The Artist's Way". One of her practices is something called Morning Pages, and after a bout of reluctance, this is a habit I've had now for…ummmm….about three years. Yipes, yes, three years!
Morning Pages are not one of the glamorous parts of living a creative life—they're really more of a workhorse tactic that stealthily works magic but sometimes seems unnecessary or skip-able. Yet it's become a practice I can't skip. Even when I'm traveling, even when I'm sleep-deprived (and oh, that's been a lot lately), even when I don't feel like I have anything to write about, I still write my Morning Pages.
Ideally, I write three long-hand pages first thing in the morning—usually while the coffee is perking and before everyone else wakes up. Sometimes real life gets in the way, so my morning pages might be written after I get everyone out of the house, or even in the afternoon. And sometimes I have to settle for one page, not three, because of Anna's wake-up time or whatever. But for the most part, I'm writing every morning.
Why? Well, it's not inspired prose. Most of the time, it's to-do lists, petty annoyances (or big ones), plans for the day or reflections on the day before. Every now and then I surprise myself with a snippet of a poem or some really good writing I can use in my artwork, but for the most part it's not really stuff you'd want to read over.
And yet I do. When I finish one of my journals, I read it over again. One journal usually covers about a month and a half, so re-reading it gives me a good idea of any patterns I see emerging (do I need to get more exercise, for example) and make sure I don't forget any brainstorm ideas (contact this person, try this technique). It's also a good overall gauge of how I'm doing—whether I'm in a downer because of the weather, or feeling happy because I'm working on fun projects.
The journal I use is from Paperblanks, and I love them because of their magnetic-flap closure, red ribbon bookmark and the pocket on the inside back cover. They're not cheap, but they're sturdy and can lay flat and come with either lines or not. But this month my stationery store was out of stock, and so I had to substitute a journal from Papaya, which is lovely but has a few differences: One, it doesn't close like my Paperblank journal; two, it has alternating lined and unlined pages, and I prefer them all lined; and three, it doesn't have a bookmark like the Paperblanks do. Well, they say change is good for you and I love the pretty cover so I'm giving it a try.
Creative inspiration? Not so much—really, the Morning Pages aren't where I expect to find brilliant writing, but they do keep me writing, and they do offer an exercise of sorts…like a runner doing daily laps to keep in shape, I find my "real" writing and creative work comes much easier since I began this practice.