Inspiration Monday: Prix de Rome
06 Monday Jun 2011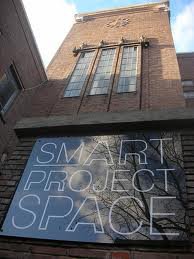 Since I wasn't headed to the UK this weekend after all, I grabbed the chance to finally go check out the Prix de Rome exhibition at the SMART Project Space.
Now, the SMART generally shows visual arts and installations—not the kind of art I do, and pretty often, it's not even art I "get". In fact, it's generally so far from what I do that it's not inspiring to me the way it's inspiring to read Somerset Studio, or Cloth Paper Scissors or check out blogs from other mixed-media artists.
And that's good. Not every exhibition or outing or magazine has to be read or viewed or enjoyed for the sake of providing direct inspiration to my work. (You know, when you look at something and think, "Right—this is the color combination I'm going to try next!") Sometimes, it's enough to just get out and look at something completely unrelated to anything I'm working on, without expectations.
And in this case, what I love is that despite a seemingly-worldwide attitude that art isn't important, that austerity measures should take away a basic foundation of help for society's members, that the only important things are money and commerce and the economy—that despite all that, there's a place in my neighborhood that shows art that doesn't quite fit into a typical tourist museum. Art that not everyone "gets". Art that's challenging, and maybe frustrating.
Art that not everyone would consider "art" in the first place.
The Prix de Rome is the oldest arts award in the Netherlands, and the winner earns €45,000. (The other finalists also earn money.) I love that this country—in spite of it's own austerity measures and culture-cuts—actually rewards working artists with money. And that I can go see the four shortlisted and six longlisted works for free. And did I mention it's in my neighborhood?
So, I guess it's inspiring after all.