Kick Start Art Journaling
Kick Start Art Journaling
It's creativity. It's art journaling. It's combining tried-and-true creativity kick starts with writing, photography, mind maps, music and more.
Six weeks.
Six exercises.
Six ways to kick your creativity up a notch.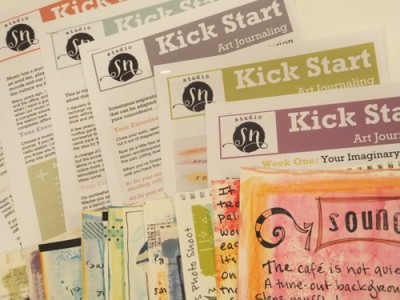 It's Kick Start Art Journaling!
What's an art journal? You can think of it as an illustrated diary…one that combines color, collage, photos and other visuals, plus writing. Art journals are a wealth of creative inspiration—and yet, sometimes the idea of actually creating your own art journal can be daunting.
As with most creative endeavors, often the hardest part is getting started. The second-hardest part? Keeping the momentum. Here's where I can help!
Kick Start Art Journaling is a 6-week-long e-course. Each week you'll get an email from me, with an art journaling assignment designed to kick-start your creativity. You'll also have access to videos where I elaborate more on the material, and show you my art journaling pages. You can take the class whenever you like, and the assignments are in PDF so you can keep them to refer to again and again.
Even better? Kick Start Art Journaling is just $15.00.
Yep, a 6-week-long art journaling course, for just $15.00.
The benefit? A creativity jump-start designed to inspire you with a tried-and-true creative boost, plus a series of journaling questions. Whether you're new to art journaling or just want to explore your creativity, Kick Start Art Journaling is for you!
I hope you'll join me on this exciting new journey!
The fee for this e-course is $15.