Lazertran & Pan Pastels
11 Wednesday May 2011
I never get over the thrill of seeing my work in a magazine…I don't think I'll ever be blasé about it. 🙂
So I was super-excited to see one of my favorite series finally made it into the May/June Somerset Studio magazine. I think I originally proposed the article last summer, and sent the pieces off last October, after they'd been on exhibit at the ABC Treehut in Den Haag. It's been a long wait!
This photo is one I took in South Africa; I printed it onto Lazertran Waterslide Decal Paper for ink-jet printers to make the transfer. It's layered on top of text paper–in this case, an index page from Nelson Mandela's "Long Walk to Freedom", which I thought was appropriate for the pic.
It's colored with Pan Pastels and I have to say…I bought some of these on a whim at the art store a while back and really didn't know what to do with them. I'm not really familiar with traditional pastel sticks, except that they're chalky and messy and I've gotten frustrated with them in the past. Pan Pastels are different, and I'm so much more comfortable with them because they're easier and cleaner to use, and because they give these lovely sweeps of color over a larger area like the background of a photo. I colored on the back of the photo transfer before gluing it to the text paper.
(If you want more info on Pan Pastels, check out the Create Mixed Media website at http://www.createmixedmedia.com/ and enter "Pan Pastels" in the search box. You'll find two articles by Ricë Freeman-Zachery, which I wish I'd read earlier in my experimenting!)
And if you like this effect, and you live in or near Portland, Oregon…I'll be teaching "Trans-formative Lazertran Collage" on September 30 at Art & Soul. (http://www.artandsoulretreat.com/) In the meantime, here's another Lazertran/Pan Pastel piece. I only used yellow, black and pale blue pastels to keep the image soft.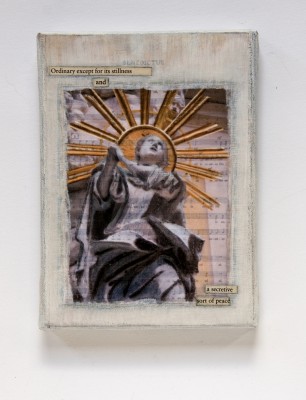 Enjoy!