Monday Five Little Questions: Cynthia Schelzig
09 Monday Jul 2012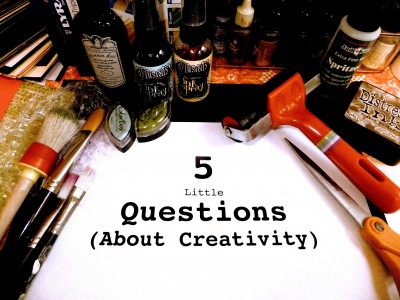 In this ongoing series, Five Little Questions (About Creativity), I'm talking to creative people all over the world to find out about their creative process. This week I'm chatting with Cynthia Schelzig, who lives in Schwabmuenchen, Germany. We're lucky to see a lot of Cynthia's work here, and you can also see more on her blog: http://www.galerie46.blogspot.com.
Q. What kind of art/crafts do you do?
A. I paint in watercolors and acrylics, design and create handbound books as well as greeting cards. For as long as I can remember I have always been captivated by the magic of creating something from nothing by hand.
Q. What´s the most unusual—for you—thing you've made?
A. The most unusual thing for me to have created was drapes/curtains. I realized how all that experience in cutting bookboards and constructing books came in handy when I had to cut precise measurements on meters of fabric. In bookbinding we have a saying…measure twice, cut once and after constructing several houses full of curtains….trust me, it is wisdom to live by. The benefits of design and color knowledge that we all use in our art certainly carry over into many other areas without even thinking about it. We can expand upon what we already know and use it to our advantage when confronted with something out of the ordinary.
Q. Say you've just sat down to a project but the energy just isn't there. What do you do?
A. I work with deadlines a lot of time so I find that really helps keep me motivated to finish or work on projects. I am happy to say that I very seldom lack the energy to create.
My problem is I have so many projects and sketchbooks filled with ideas that I think even if I were to live to be 200 years old I´d only touch the half of them. Some days I think I should have about three more pairs of hands or maybe find myself a nice vampire somewhere so that I´d be around long enough to finish all my work.
I spread my creative time out over three mediums and this actually helps me from getting bored and I find they actually end up feeding off each other. When I am not physically creating something I am reading books and magazines on design or art history as well as diverse other subjects…..most of the time a creative idea strikes where you least expect it. I find it also helps to get away from your projects all together and practice some form of regular fitness program, be it jogging or doing a DVD or going to the gym. A healthy artist is a happy artist.
Q. What time of the day do you do your best creative work? What is it about this time that makes it so conducive?
A. My most creative ideas come to me just upon waking up or going to sleep. The best time for me to work on these ideas is after 6 PM. I am a night person and love to work into the wee hours of the morning.
Working at night inspires me. I get a lot more accomplished. No phone calls, no one interrupts me. I feel I own the time and it is all mine. I can do what I want and as long as I want. I may suffer the next day but it all evens itself out in the long run.
Q. How do you divide your time between your different creative pursuits?
A. I don´t purposely dictate to myself what will be worked on unless I have a deadline. It is productive for me to have more than one specific art interest. For example, if a painting goes south I can always crop it and use it for background paper in a card creation or as a bookcover.
Also, when I am painting it gives my fingers a break from the sewing of bindings and when I am binding or constructing cards it gives me time off from painting day in and day out. Besides, all three require using the principles of design and thinking about color schemes, etc. so each pursuit enhances the other and it keeps me from going stale and I am never bored.
Picasso said, "the only thing worse than copying someone else is copying yourself." I try to keep all avenues at my disposal and am open to experimenting in my "laboratory" or taking a class in some medium new to me. Keep it fresh. Try something new every once in awhile but most of all….go to your room and CREATE!
Vielen dank, Cynthia, for letting us have a glimpse into your creative process! Remember, if you want to check out more of Cynthia's work, visit her blog: http://www.galerie46.blogspot.com.
Happy Monday!