Monday Inspiration: Charlie LaBonte
13 Monday Aug 2012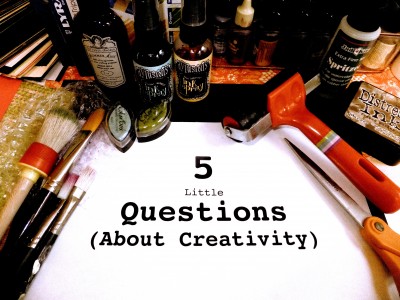 In this ongoing series, Five Little Questions (About Creativity), I'm talking to creative people all over the world to find out about their creative process. This week I'm chatting with Charlie LaBonte, who lives in Rochester, Washington. You'll see some really amazing work Charlie did to completely alter a cabinet, a scissor holder from Costco, and a table, and for more of her work, you can visit her blog. Charlie also owns The Hens' Den, an online store for tons of scrapbooking loveliness.
Here's a bit about Charlie:
I live in Rochester, Washington, with my husband Glenn and our two schnauzers, Chopper and Winston. I am a grandmother of three: Logan and Ethan who are twins, and Autumn who is about to crawl. I love gardening and scrapbooking and quiet moments with my Kindle. I was introduced to scrapbooking by my daughter-in-law in 2010 and I jumped off that cliff February 2011 by opening an online store called The Hens' Den. We also attend 4 expo events each year between Washington State and Oregon and I love it. The expos are fast-paced and exciting. I love meeting all the new people that visit us each time we go to one.
Q. What is your (to date) favorite project?
A. I love to play with "things" and remake them. From birdcages to small furniture to mini albums and old books. If you gave me a 12"x 12" piece of paper, I would be lost. Give me something to alter, I can see many things. I am not perfect, but I love what I do and the energy that I receive while playing with different items is amazing. I love working with paper that has a great story theme. Honestly, Graphic 45 is one of my most favorite.
Q. When someone is new to crafting, what do you suggest?
You have to be true to yourself. Start out small. Play with 6"x 6" papers and see if you can create a theme on that amount of space using ribbons, glitter, paper cut-outs and flowers. Then take on a 12" x 12" and apply the same method. Work small at first and then move on. If you try to jump right into an altered item and feel like you failed, you may not try again. It is okay to find your groove in the simple things and it is okay to say that "I am not good at 12" x 12" layouts". I have and it is very liberating. I do not feel like that I have to keep up with someone else. I do what pleases me! You need to do the same. Scrapbooking is about passion and style, look around and see what others are doing and apply what you think will work for you. Try not to follow the "newest and greatest thing". If you are just starting out and you approach it in that manner, you will not feel like you accomplished much other than to frustrate yourself. Subscribe to a good magazine, like Creating Keepsakes. They have such wonderful helpful hints and guides, anyone new to scrapbooking will pick up hints, tricks and talents with that magazine.
Q. Say you've just sat down to a project but the energy just isn't there. What do you do?
A. I walk away. You have to. Otherwise it becomes a burden and you will hate it in the end. Walk away…give yourself time by visiting Pinterest or any of the blogs that the manufactures have. Create a collection of designers and their blogs that you enjoy and look to them for encouragement. Attend classes at your local scrapbooking stores. Look to see what others have done and get your "groove" by seeking out what makes YOU feel good. Scrapbooking should not be a contest. Scrapbooking is about you expressing who you are and what makes you happy.
Q. What does your creative space look like?
A. OH MY GOSH… It is a mess. My space is 12' x 15' and it stores a lot of stuff. I own an online store called The Hens' Den. I try so hard to clean up after each project but it so short lived. Once it is clean, I am so motivated to move onto something else and before you know it, my space is a mess, again….lol . Every square inch of my room is taking up space for all the product we sell on line and I have so much product at arms reach, it is hard not to just "grab" and play. I have to respect that this is store product for sale…not my personal play room….lol (it is really hard!)
Q. What book are you reading right now?
A. I am reading a mystery by Richard Castle—one of his "Nikki Heat" characters, I love his story style. I give myself time every night just before bed, to read and unwind and I do so by "falling" into a good story. I pretend to be one of the characters and let the stress of the day go away. I love reading and my Kindle is my best friend for that.
Thanks, Charlie, for sharing your creative insights with us! To see more of Charlie's work, you can follow the links below!
Personal blog: http://charlielabonte.blogspot.com/
Store blog: http://thehensdenteam.blogspot.com/
Facebook: https://www.facebook.com/#!/CharlieLaBonte
Pinterest: http://pinterest.com/charlielabonte/