Monday Inspiration: Filling the Well
12 Monday Sep 2011

Last week I signed up to take workshops at the Mixed Media Circus in Hamburg, Germany. It's a full weekend of classes, and one can either go for an a la carte option, or take the whole weekend experience. I'm going for the whole weekend, and I'm so excited.
Slight detour: Have you done The Artist's Way, by Julia Cameron? (If not, I highly recommend it.) One of the things she suggests is developing a system of "filing the well"—meaning, your creative well. She calls this an Artist Date, where you take your inner artist out for some quality one-on-one time. That can be a trip to the museum, or bowling…it doesn't really matter, as long as the time spent is doing something fun and playful, something that restores your creative spirit.
I realize that one of my weak spots is forgetting to fill the well. Like many people, I'm focused on being productive—and as time is such a precious commodity, I'm constantly trying to do more things in less time, and frankly, taking time to fill the well can seem…well, like a waste of time. Shouldn't I be working, taking care of my family, or at least tidying my studio (which is in a disgraceful state right now)? Shouldn't I be more responsible?
Last Friday I took the day off. I got on the 8:04am train to Cologne, Germany, to go to the Museum Ludwig. I wasn't in that museum for five minutes before I started scribbling notes in my journal and making sketches. I sketched at a café over a lunch of brotchen mit kase and kartoffelsalat. I journaled while drinking the strongest coffee ever in the courtyard of the Hotel Dom.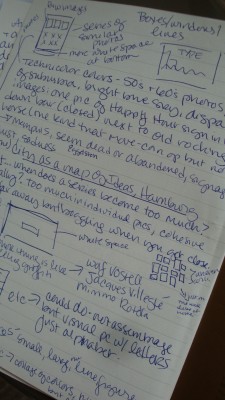 I was filling the well—and it felt like a huge relief to get it all down onto paper.
Okay, back to the Mixed Media Circus: My motivation isn't necessarily to bring home tons of new techniques. I'll be honest—I don't care if I don't learn a single new thing. (Although I'm sure I will.) The point for me is a weekend away from the everyday, from the sense that I should be planning/writing/creating/submitting to magazines/proposing workshops…or at the very least, doing another load of laundry. You know, working. The well-filling, for me, has as much to do with the act of getting on a train and going to a new place and seeing things with a different perspective.
And taking in the experience of filling the well.