Monday Inspiration: Janet Miles
20 Monday Aug 2012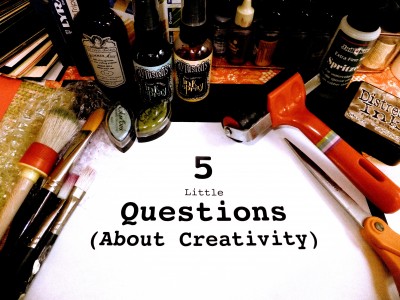 In this series, Five Little Questions (About Creativity), I'm talking to creative people all over the world to find out about their creative process. Today I talked with Janet Miles from California. Janet very generously shared lots of photos of her scrapbooks and cards (yay!) for you to see here…she also has an Etsy shop with more of her projects, and you can find her on Facebook.
Here's a little bit about Janet: I live in San Bruno, California, literally right across from the San Francisco airport and have lived in this town almost all my life (I'm 57). I am happily married for 28 years and have 3 children (daughter, 26; son, 24; and daughter, almost 16). I spent about 27 years working in doctors' offices as a medical assistant and office manager and then decided to work from home doing medical transcription. I have had my own home-based transcription service for 11 years.
I have always liked crafting in general and have done all kinds of crafts over the years: crocheting, some embroidery, sewing, etc. I have also been a keeper of mementos and still have some scrapbooks that I made when I was in high school—primitive as they are. I would say that over the past 10 years scrapbooking and paper crafting have become my passion. Lately I have been working on making paper bag albums and have gotten into card making. I would definitely not call myself a professional (although with the Etsy site and some word of mouth advertising I have gotten paid for some of my creations!). My motto is: A smile is contagious, pass one around! My Etsy shop is: www.etsy.com/shop/ASmile4UfromJanet and I have a page on Facebook that is also A Smile 4U from Janet.
Q. Does weather impact your creativity or the kinds of projects you make? If so, how?
A. I wouldn't say the weather actually has any impact on my projects. Since we live in California, our weather is never really too extreme in either direction and since I scrapbook inside, I can regulate the temperature in the house.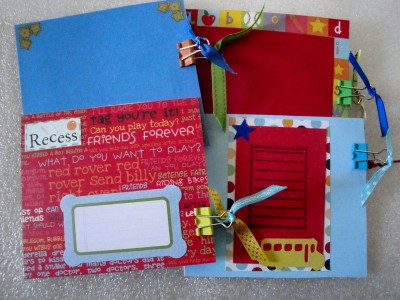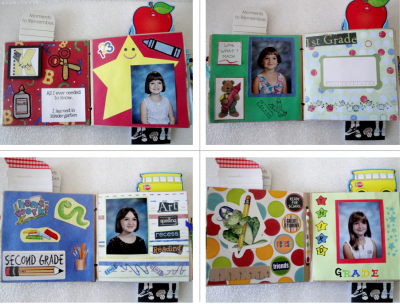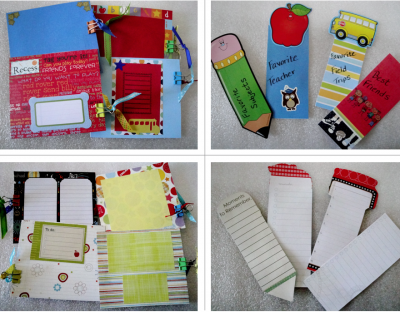 Q. What does your creative space look like?
A. Here's a picture of my craft space. I dream of the day I can have my own craft room—maybe when the kids move out! When I am not working on a project, I try to keep it neat because it is in a corner of our living room. When I am in the middle of a project, I can be pretty spread out.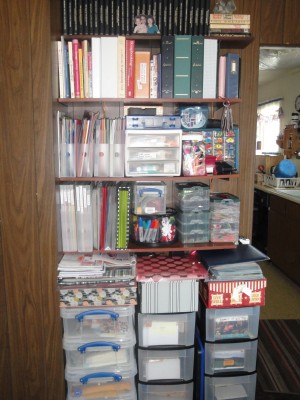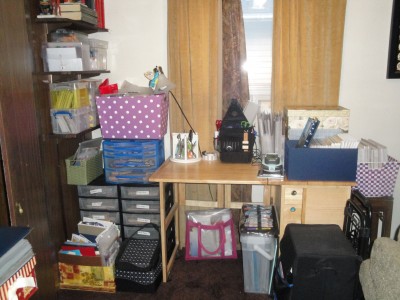 Q. Do you have the radio, television or podcasts on when you create? What do you listen to?
A. If I am alone, I love to listen to music, mostly oldies and rock. Since I craft in the living room, if someone else is home, the TV is usually on to either a movie or some sports—baseball is my favorite.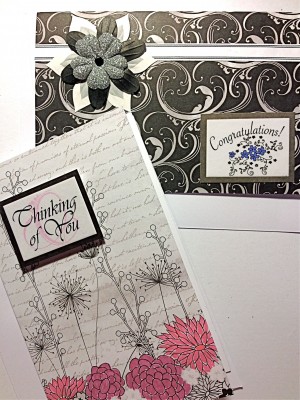 Q. Say you've just sat down to a project but the energy just isn't there. What do you do?
A. Depending on the project, if I am having problems coming up with ideas or want to try a new technique I will often go to the computer and watch some podcasts—I get the Paper Wishes show with Paulette and Ann (miss you on there!) and love to see their demos of new and old products. I have often gone back to re-watch episodes, especially if I have purchased something and need to refresh myself on how it works or what I can do with it.
The other one I subscribe to and watch regularly is Scrap Time with Christine Urias. That is where I got the idea for the paper bag albums I have been making and I love to watch the clips she shoots from the CHA conventions. So much fun stuff!!!! Usually after watching some of these or searching on YouTube for a particular technique to try, I am ready to go. I just got an iPad and am excited to be able to have that with me near my craft area instead of having to go into the other room to use the computer.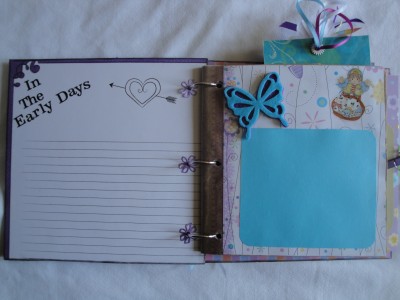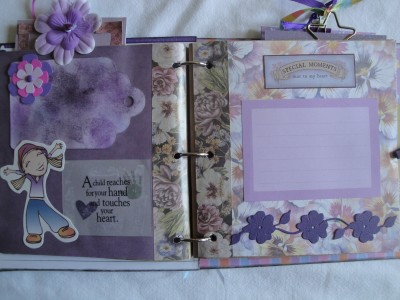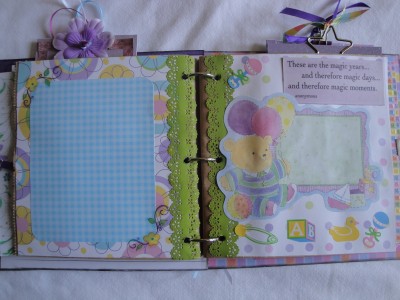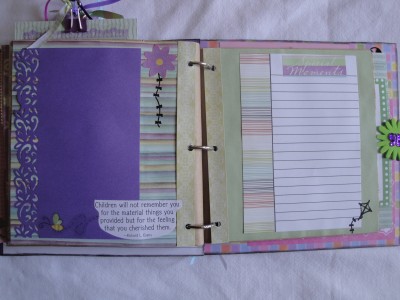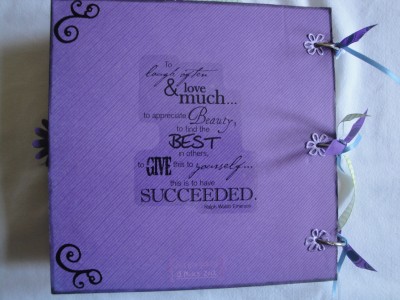 Q. Do you have a pre-project ritual? If so, what?
A. I don't know about a ritual, except that I always like to have a glass of water to drink nearby and since my space is limited, I do try to gather all the papers and embellishments I think will work with my project together before I start. I have two large flat containers (actually the top and bottom of a box that a 12″x12″ album came in) that I use to hold ribbons and other smaller items, especially if I have purchased something specific for a project, I have to have it handy or I forget I bought it!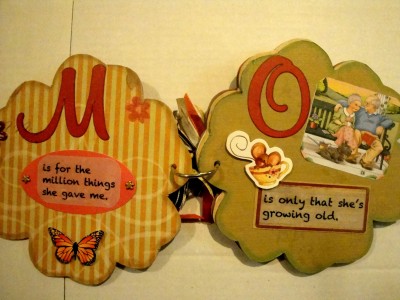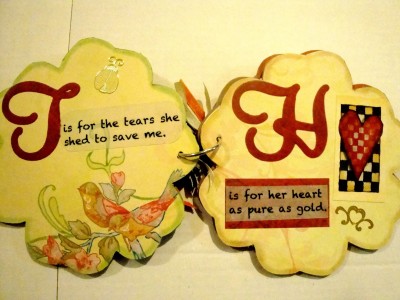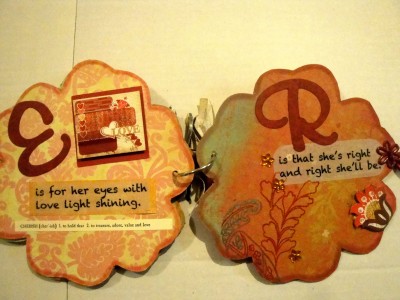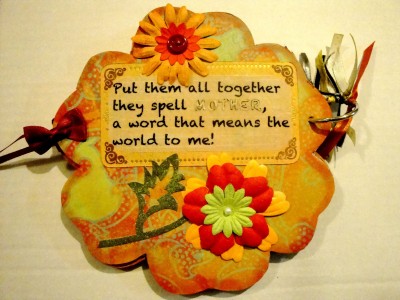 Thanks, Janet, for sharing your creative insights and projects with us! To see more of Janet's creations, check out her Etsy shop and find her on Facebook!