Monday Inspiration: Upcoming Ranger/HOTP/Lazertran Workshop!
14 Monday May 2012
More workshop news!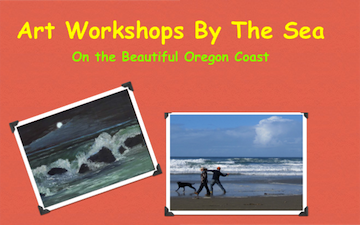 In light of my recent visit to Ranger U, I've changed some things around with my Art Workshops by the Sea workshop. Not a whole lot…but now the focus of the 3-day class is going to be Ranger inks and techniques, plus Hot Off The Press stamps and Lazertran waterslide decal papers. We're also going to do some painted backgrounds, and you'll leave with samplers of all the cool new techniques you'll learn.
Sooooo…here are the details on my 3-day workshop, "Mixed Media Techniques with Ranger Ink"—
Explore, create and discover a wealth of mixed-media techniques! If you make art journals, ATCs, handmade cards or collages, this workshop will inspire you with a variety of versatile techniques.
You'll stamp, ink, texturize and collage your way through the weekend, using Ranger's alcohol inks, Distress Inks, sprays, paints and pens, plus Lazertran waterslide decal paper and the latest stamps from local company Hot Off The Press.
Our weekend will feature three areas: Creating a sampler portfolio of techniques from our Lab Time experiments; using Lazertran to integrate photos into your artwork and exploring texturizing techniques with found objects and stencils.
Student supply list:
• Apron to protect clothing
• Scissors, glue stick, double-sided tape
• Mod Podge or Gel Medium (either is fine)
• Acrylic paints (craft store variety are perfect): White/cream and 4-5 favorite colors
• 1" and ½"-wide brushes for paint and gel medium
• Two 5"x7" canvas panels (Fredrix is one brand)
• Gloves (optional)
I'll bring all Ranger products (inks, paints, sprays, etc) and stamps to share. You'll have a class kit with papers and other materials to work with.
Where and when:
• When: July 20-22, 2012
• Where: Florence, Oregon
• Cost: $299
• Organized by: Art Workshops by the Sea. Visit their website for more info, or to register.
I hope you can join me for this weekend—between all the fun techniques we'll explore, and the beautiful Oregon coast, I'm sure we'll all be inspired!