Monday Inspiration: We're off!
03 Monday Sep 2012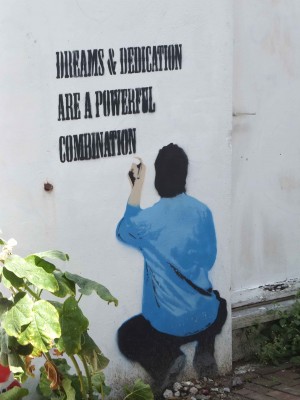 On Friday I was walking down the Elandsgracht here in Amsterdam; the couple ahead of me was walking slowly and I spied a narrow alleyway and thought I could use it to cut through to the next block. However, the alley simply ended in a slightly wider alley with tall brick walls—decorated with this grafitti piece. So despite going the wrong way, I ended up seeing this cool picture!
Today, Monday, we're boarding the plane with one-way tickets to Gdansk, Poland, where we'll stay for two years. After that, we have a bit more flexibility in deciding where to go next: Back to the States, or to Munich or the UK. Or maybe even back to Amsterdam. It's going to be  hard to leave—in fact, it is the hardest part of this transition, since we love this city so much. It might not be perfect (rain all summer?!?) but it is, in many ways that count, the perfect place for us. And after five years, one baby, countless bicycles and many, many good friends—plus, for me, major lifestyle changes—we've got more than just a little bit of our collective heart invested here in Amsterdam.
(I mean, in how many other places do you take a wrong turn and end up with art?)
We are so sad to leave.
But we are so excited to see what Gdansk will mean for us: A city on the edge, quite literally, of so much—history, culture, geography. For me, it marks the beginning of some big art projects, big writing projects, big business projects and even a proper studio space. And of course, the magic that happens creatively when I'm in a new environment. We are ready, even if we're not ready.