Monday Morning Review: Just Steampunk Magazine
04 Monday Nov 2013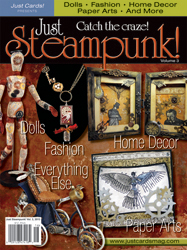 The other day, my cardmaking mom asked me if I liked Steampunk. I had to admit, I hadn't really thought about it enough to answer! Hot air balloons, watch parts, and mustaches are Steampunk images that come to my mind first, but I figured that couldn't be all there was to this popular look. So when I got Just Steampunk (published by Scott Publications), I was ready to learn more.
The general definition of Steampunk is a little vague. I've most often heard it described as "the future imagined by the past". Just Steampunk defines it as "an art form that mixes the styles of past generations (such as the Victorian era) with modern conveniences", which I think makes it easier to grasp. That Victorian era is where we get the mustaches and the top hats, the swooning Victorian ladies and the corsets that caused the swooning. The Victorian era spans from the 1830's to the 1900's, so it covers a lot of historical ground.
The "modern conveniences" part is where the mechanical images come into play: The watch parts, gears, zeppelins, hot air balloons, trains and clock faces. There's also a spirit of innovation, inventions and adventure—remember, the Industrial Revolution is part of this time period, and Jules Verne's Around the World in Eighty Days was published during this time as well.
I'm actually a little surprised I wasn't a fan of Steampunk before—it's a theme loaded with literary and historical images and references. (I'm a nerd that way.)
Now, about the magazine, which is a special issue from Scott Publications. (They also publish Scrap & Stamp Arts and Just Cards! among others.) It's Volume 3, and other Just Steampunk issues are also available.
What's different about this magazine is the format: The projects are presented as a gallery of art; it's not a how-to publication. Chapters include Fashion, Dolls, Home Decor, Paper Arts, and Everything Else. I think it's a great way to showcase this style—because so many of the elements used to create Steampunk pieces are one-of-a-kind, it's better to simply seek inspiration from the artwork rather than trying to replicate it exactly. That said, each project does have a line of general descriptive text and you could easily re-create a piece with similar supplies.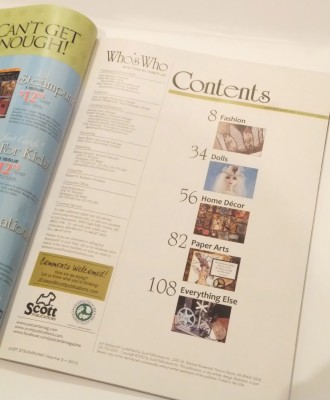 The other thing I liked? The variety. As a stamper and cardmaker, I generally gravitate to paper-based art. But as a a mixed-media lover, I'm also intrigued by other types of artwork. My favorite section? The Fashion chapter—this is really where the Steampunk theme came together for me. Seeing the beautifully crafted jewelry pieces made me realize how easy it is to add a touch of Steampunk style to my wardrobe—these pieces are beautiful, unusual and surprisingly wearable. Of course, the photos of people dressed in full Steampunk attire was really fun, too!
You'll see some familiar names in this issue, too: Lynne Suprock, Nicole Eccles, Terri Sproul, among others.
Will I pick up Just Steampunk, Volume 4, when it comes out? Absolutely! (I've also got my eye on Volumes 1 and 2, which are still available.) Each one retails for $12.99.
Hope you enjoyed today's Monday Morning Review! For more info on Just Steampunk, pop on by Scott Publications website or visit your local craft store or bookstore.