Monday Morning Review: Plumeria Chalk Ink
02 Monday Dec 2013
There are a lot of supplies on my work table.
It's where I keep all of my most-used supplies so I don't have to hunt for stuff while I work. You know: Scissors, paper trimmer, baby wipes, craft sheet, glue…and *ahem* piles of paper and other assorted things.
And of course, inkpads. Black, brown, watermark…
Lately I've added this one: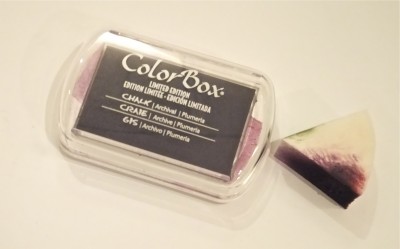 This is Plumeria, from Clearsnap. It's a rich, dark plum color—softer than black but richer than purple or brown. The ink is Colorbox's Chalk ink, which is a dense, matte, stays-wet-long formula.
Now, I've used this for stamping and brayering but the reason I'm using it daily is for edging paper. I used to (in the olden days of last month) ink all of my papers with black. Just a quick zip zip of the inkpad along the edge of the paper and you have instant contrast. It's almost like matting the piece.
But now.
Now I'm edging my papers with Plumeria. And—perhaps just as important—I'm using a cosmetic wedge. Yes, this grubby little wedge is permanently out on my desk, too. I just dab it onto the inkpad and use it to apply the ink to the paper. If I want a very subtle edge, I'll just use the wedge as it is since it usually still has useable ink left on it.
It works on all kinds of paper:
You'll see it's not as stark as black, and that's due to the color and the application. That cosmetic wedge, by the way, is great for getting around scalloped and torn edges. (Since I keep it out all the time, I stash it in a recycled yogurt cup so it doesn't get ink all over.)
And of course you can use Plumeria for other fun techniques, too, like brayering—then you can ink the outside edges of your stamped focal and the edges of the card itself: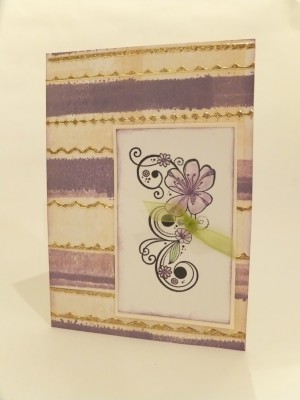 For this card, I brayered the entire background with Butter Chalk ink. When that was dry, I masked off areas with scrap paper and brayered stripes of Plumeria. I inked the edges of the stamped focal quite heavily. The edges of the card are also inked, but with a lighter touch. The stamp is Serendipity Flowers from Hot Off The Press, colored with Perfect Pearls. The gold borders are Gold Dazzles™ from Hot Off The Press.
Plumeria ink (plus all the other things I used on this card) available from Paper Wishes.
Happy Monday!