Monday Morning Review: Surfacez Inks from Clearsnap
11 Monday Nov 2013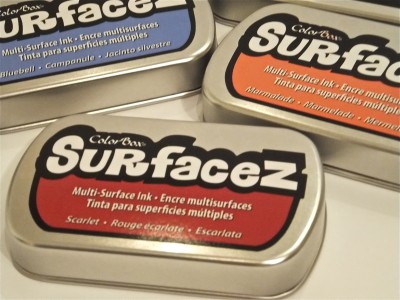 I've been working with these inks for the past few weeks and really like them, so I wanted to share a bit with you. Surfacez are the latest line of inks from the folks at Clearsnap. I initially began using them for a DVD I'm working on, then for a class project, and by now they're just out on my work table and I find I'm reaching for them regularly.
You'll notice from the label that they are a multi-surface ink. This means they can stamp on paper as well as non-porous surfaces like glossy cardstock, acetate, glass and plastic (like stickers). They dry super-fast on those surfaces, which makes them ideal for those times when you can't wait for the ink to dry. Now whenever I stamp or color on acetate or glossy card, this is the ink I reach for.
Of course stamping is the first thing you think to do with these inks, but you can also brayer with them or do direct-to-paper techniques. They do dry fast, but not so fast that you can't swipe the color onto a surface or roll it on.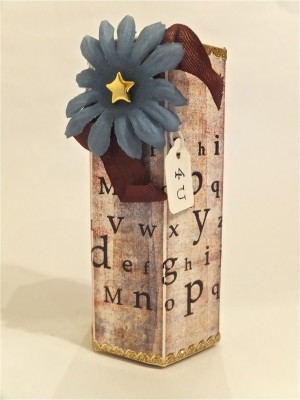 This swirl box is from the Sara's Surfaces™ line—I thought the coincidentally-similar names made them a necessary combination! Sara's Surfaces™ are a line of boxes and pockets made from sturdy glossy white cardstock, so they're perfect for coloring with Surfacez ink. Yes, Surfacez for Surfaces!
This is the Swirl box. It comes flat, so you just ink up a brayer and add color. I first brayered on Marmalade, then Scarlet, then a bit of Bluebell. After the ink was dry (a minute or two), I stamped the Alfabet Background (from a company called Different Colors) with Black Surfacez. I stamped once on one side, and then on the other side.
The gold trim you see at the top and bottom are Gold Jewel Border Stickers Dazzles™. I put a gold brad through a little silk flower and layered it onto the top of the box with foam tape. The tiny tag is stamped with the Hero Arts Alphabet stamp set in Printer's Type. The whole thing took about half an hour to make, at tops. Simple, easy and it makes a fun little gift box too!
Hope you enjoyed today's Monday Morning Review! For more info on Surfacez inks, check out your local retailer or pop over to Clearsnap. For more on the Swirl boxes, check out Paper Wishes.
Happy Monday!