Monday What's on My Desk
10 Monday Dec 2012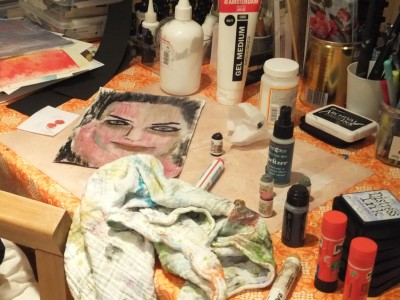 This morning I am reveling.
See that picture on my desk? This is something new for me: Painting over an image on a magazine page with Shiva Paint Sticks. LOVE. I first painted the page with gesso because magazine pages are so slick, then a coat of white acrylic, then the paint sticks which I have owned for a very long time and don't use often because they intimidated me. Past tense, intimidated. Now I adore them and I think I'll be paint-sticking a lot in the future!
The picture is an art journaling page in progress, part of the 6-part Kick Start Art Journaling e-course I'm launching in January. More info to come!
Happy Monday!