Monday What's on My Desk
03 Monday Dec 2012
Last week I was reviewing some pendants I made. I first layered a Lazertran photo on top of vintage paper, then punched with a circle punch. The circle is glued into the metal bezel, then set with Ice Resin.
The lovely thing about Ice Resin is that it gives a beautiful domed effect; it's crystal clear and very sturdy for setting jewelry like this. The tricky thing—as with any resin—is the chance of air bubbles. You can pop air bubbles with a toothpick while the resin is still wet, which I do. Most of the time, this is enough to take care of any air bubbles so your piece is perfect.
Sometimes, however, you miss seeing the air bubbles—they're super small, or hidden around the rim of the bezel. Or they occasionally occur after the resin starts to set. Whatever the case, you can sometimes find yourself with unexpected bubbles in your set, hardened resin. That's where I found myself late last week, looking over a batch of bezels with tiny air bubbles firmly set in the rock-hard resin. Now, if you're wearing the pendant, chances are that no one will see the bubbles. Yet I can't in good faith sell these pieces. I mean, handmade is not perfect but still…
So what to do? I had 6 pieces with tiny bubbles. Normally, I would just wear them myself—but I don't really need that many extra pieces. And to throw them out would be wasteful, even though I couldn't reuse the bezels. So I thought this might be a time to experiment.
First, I mixed up a batch of Ice Resin and added a drop—just one drop!—onto the set resin in the bezel. I only did one drop because the bezel was already pretty full and the last thing I wanted was overflow. I spread the resin all the way to the edges of the bezel, then sprinkled on fine, clear glitter. Not a ton, but quite a bit. The glitter set in the resin and when it was dry, I had obscured the air bubbles entirely.
Now, you can still see the words and the colors of the paper in the bezel, but it's definitely frostier and a bit rougher than pieces made with just the resin, like these earrings:
…compared to the glitter effect: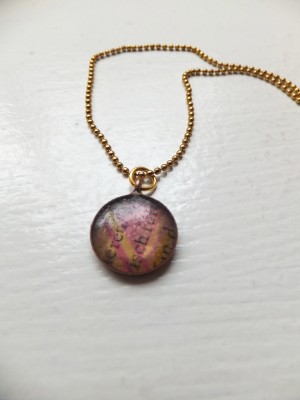 Here, you can see the texture a bit more. But no air bubbles! They're still there, just hidden. 🙂 Whew! (And you know what, I think I really like this effect!)
Happy Monday!