New Online Workshop: Kick Start Art Journaling!
22 Friday Feb 2013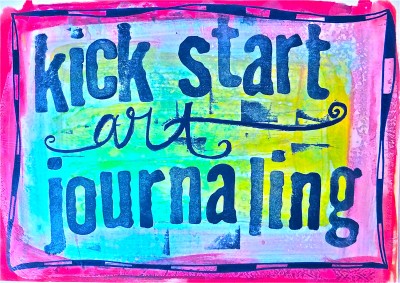 It's here—finally! Yay!
I'm so excited to announce my new online workshop, Kick Start Art Journaling!
In this workshop, I share six of my tried-and-true exercises for kick-starting creativity, from mind maps to photo shoots and more. We'll do those exercises in art journaling pages, so you'll not only nurture your creative muscles, you'll also have lots of fun with art journaling! (Yes, even if you've never done an art journal in your life.)
Each week, you'll get an email from me with that week's assignment, as a PDF that you can download and refer to again and again. (You'll also get a video from me, where I show my own art journaling pages and chat a bit about how I approached that week's exercise. It's filmed in my totally messy studio!) You can start at any time, and do the exercises as you receive them, or store them up and do them when your schedule permits.
Even better? This online class is just $15.00.
Yes—a 6-week-long art journaling creativity class for just $15.00. (I think it's a pretty good deal, personally!)
And…because the PDF is yours to keep, you can go back and do the exercises again and again—and get different results every time!
I do hope you'll join me for Kick Start Art Journaling! Simply click here to learn more and sign up. If you have any questions, don't hesitate to email me at saracnaumann@gmail.com!