Photo Friday: Black Madonna of Częstochowa
06 Friday Dec 2013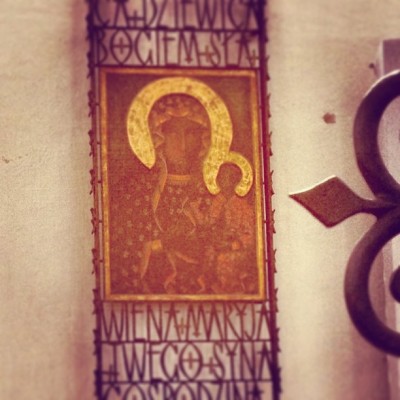 Last week we headed into Gdansk—Sopot, Gdansk and Gdynia form what's called the tri-city area. Gdansk is about 20 minutes drive from us in Sopot, and we go every few weeks for a change of pace.
The city has one of the most beautiful old Gothic churches—the Bazylika Mariacka, or St. Mary's Cathedral. It's packed with artwork: Besides the building itself, it contains gorgeous paintings, stone sculpture, wood carvings, icons, angels, saints, stained glass…and clocks. Big, amazing clocks. You can see some photos of the church's art collection here.
Saint Mary is a very important figure in Polish history; she's been the official Queen of Poland since the 1600's. The Black Madonna—pictured here—is particularly revered. Legend says she's saved the country in battle more than once. This portrait of a Black Madonna hangs in the church in Gdansk. (The original is in the town of Częstochowa.)
Although I generally gravitate toward artwork with brighter colors and more modern themes, this one really captivates me—the layers of legend behind it, the mystery of what makes a Black Madonna (accumulation of candle smoke? pigment? age? mystery?) and the devotion tied to this quite modest portrait. It's a very quiet piece—part of that is due to the dark colors, of course, and the somber expressions—but there's something  compelling about it nevertheless.
It's a fascinating study when history, legend, belief, mystery and art combine.
Happy Friday!