Photo Friday: Frozen (& Blurry) Park
07 Friday Feb 2014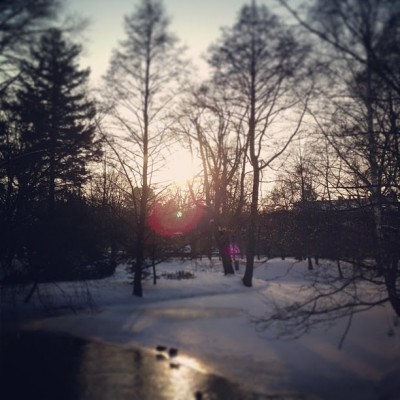 My husband said, "This photo looks blurry."
It's the Instagram effect. I love playing with the various filters and getting different effects…especially when our winter landscape seems to be one long white series of days into weeks.
But as I'm flipping through my Instagram filters, I can enhance the color of the photo, turn it sepia or boost the saturation; and I can even blur the edges, as I did here. Most important, I get to play with different moods. I love that feeling when the altered photo makes me feel exactly as I did when I stood and snapped the picture.
And it's easy. Easy, easy, easy. So I feel like a proper photographer, which is totally not what I am (but really fun to pretend).
When your days are starting to look a bit same-y, from the weather or your location or whatever, it's fun to take a few photos and play with altering them. Try Instagram, or just use the photo editing options on your computer. Or, go really DIY and get out the paint and sandpaper and stamps and alter a printed picture instead.
(Even if it's really blurry. Hey, it's on purpose!)
Photo taken in Oliwa Park, Sopot, Poland.
Happy Friday!