Photo Friday: Tea Box Inspiration
14 Friday Feb 2014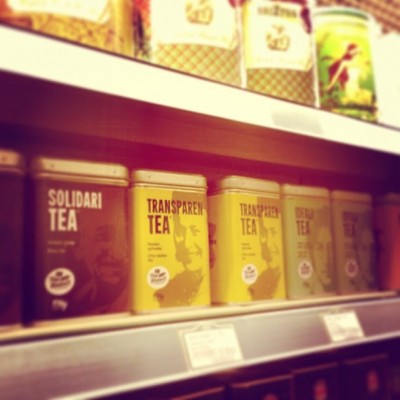 Last week we were at the Alma, our local supermarket. This store is so different from the little "delicatesys" that are all over our neighborhood, where I normally shop because I can walk to them.
The Alma is as close to an American-style supermarket as I've ever seen around here. Imagine: They have carts—the kind you push, not baskets you carry. And more important, you can actually fit down the aisles with them.
(Compare this to our tiny neighborhood shops that put paper towel next to pickles next to bars of soap and usually carry only two of of any item. The Alma, in contrast, is bigger and more corporate and can offer "luxury" items…like fancy tea.)
So while Keith and Anna stood in line, I wandered to the tea aisle. I love tea—and even more, I love tea packaging. I mean, I am the ultimate sucker for a cool box even if it contains the worst tea in the world. (Ginger vanilla chai, anyone?) And so here in the tea aisle, I took a little pause to admire the very cool altered-photo design on these tea tins.
Of course I bought one. Simone de Beauvoir. I think an upcoming project is going to include some similar altered-photo design…maybe some architecture photos, turned artsy black and white.
And that cool yellow background. I'm really into yellow at the moment, so that may come into it too. What do you think?
And you know? The tea inside (citrus rooibos) is really good.
Happy Friday and Happy Valentine's Day!