{Project} Wednesday
09 Wednesday Jan 2013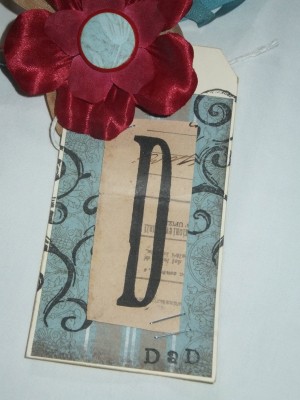 This manila tag was tied onto a gift package for my dad. It's simple and easy to do.
The patterned paper was glued to the tag, slightly smaller than the tag itself. The swirl stamp is from Judikins, and it was stamped to go off the patterned paper on to the tag edges. The "D" letter is about two inches tall; stamped in black on a scrap of old book paper and added to the tag and accented with staples. The small "Dad" at the bottom is done in tiny alphabet stamps from Hero Arts.
The big silk flower at the top has a 22mm brad inserted through; I glued a punched circle of patterned paper on the brad and secured it through the tag hole.
I love the overall vintage effect: the combination of teal and red, the old ledger paper, and the stamps.
Happy Wednesday!