{Project} Wednesday: Alcohol Ink Resist
18 Wednesday Sep 2013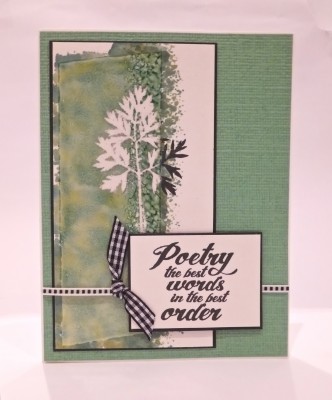 This week on Studio SN on You Tube…Alcohol Ink Resist!
I first learned this technique at Ranger U and I love it—it gives you a really cool look and you probably have all the supplies you need in your stash. Yay!
You'll need:
– Alcohol inks: Lettuce, Bottle (Ranger)
– Jet Black Archival Ink (Ranger)
– Alcohol Ink Blending Solution (Ranger)
– Applicator and felt pad (Ranger)
– Clear packing tape
– Stamps: Paper Artsy 1010EZ
– Cardstock: Green, black, cream (matte)
– Lint-free cloth
– Blank white card (5″ x 6 1/2″)
– Black and white ribbons
Here's how to do it:
1. Stick a 5 1/2″-long strip of clear packing tape to the left side of a 3 1/4″ x 6″ piece of cream matte cardstock.
2. Use the applicator and felt pad to add alcohol inks to the tape and overlapping a bit onto the cardstock. Let dry.
3. Stamp the botanical with Archival ink. Immediately begin blotting off the ink. When most of the ink is blotted, then gently rub off the ink, rubbing into the design.
4. When most of the ink is off and you have a grey-ish cast, gently buff the design.
5. Mat the piece on black cardstock. Cut a piece of green cardstock slightly smaller than your card front. Add the stamped focal, then wrap with ribbon. Stamp and mat the sentiment, glue it overlapping the stamped design. Tie a small piece of black and white check ribbon as shown.
Want to see the video demonstration? Then stop on by Studio SN on You Tube! Hope to see you there!
Oh yes: For more ideas, check out the Alcohol Ink Resist Technique I wrote for the October issue of Scrap & Stamp Arts—it's on newsstands now!