{Project} Wednesday: Couture Alphabet Tag
01 Wednesday Feb 2017
Happy Wednesday!
Today I want to share a fun and easy tag using Couture cutting dies. The Floral Alphabet is one of the most beautiful sets of alphas I've seen in a long time—they look great cut from regular cardstock, and they're really stunning when cut from metallic card as I've done here. I love them for spelling out words and names, but just using a single letter as a small monogram is really effective too. You can easily layer them, snipping away the butterflies and flowers to create dimensional looks…and you can add 3-D embellishments to accentuate the details too. And of course, they integrate perfectly with other Couture dies too!
Couture Alphabet Tag, what you need—
Couture By Create and Craft Artistry Collection Floral Alphabet cutting dies
Couture By Create and Craft The Big Reveal Collection cutting dies
Couture By Create and Craft By Invitation Only Collection cutting dies
Gold mirror cardstock
Blank tag
Hot pink cardstock, black cardstock
Gold self-adhesive embellishments
Foam tape
Gold metallic dot washi tape
Couture Alphabet Tag, how to make it—
Apply metallic gold washi tape along the two long sides of the tag, trimming off the excess.
Die cut the Moroccan grate die from metallic gold cardstock, then shift the die over to cut a continuing pattern from the same piece of card. Mat on pink card and glue to the front of the tag.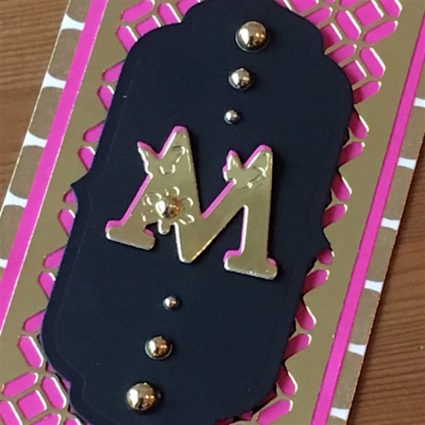 3. Die cut a black label from the By Invitation Only collection and add it to the tag with foam tape.
4. Die cut two of the same letter: one from pink card, another from metallic gold. Glue the two together, slightly offset. Glue to the center of the label. Add gold embellishments at the top and bottom of the label, and in the center of the flower on the letter.
5. Fold a piece of washi tape in half length-wise, sticky sides together. Tie it through the hole in the top of the tag.
That's it—easy! For more Couture dies and demos, please join me on Create and Craft TV!