{Project} Wednesday: Craft Attitude Card
08 Wednesday May 2013
Today I'm pairing Scrapbooking Attitude with Dylusions spray. Love, love, love this combination! (And I thought it was perfect with the Eclectica stamps, too!)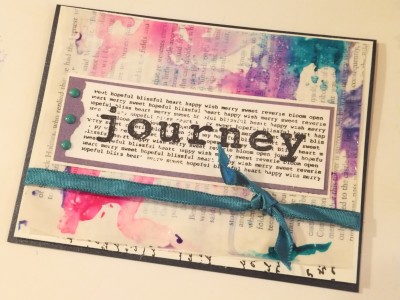 Scrapbooking Attitude is a transparent printable film—it comes in packages of 8 1/2″x11″ sheets that you run through your inkjet printer. You can print your photos onto it, then adhere them to wood, metal, glass and other surfaces. For this, you do need an inkjet printer…and I have a laser printer. Hmmm. Okay, no inkjet…but I do have ink.
So I pulled out a sheet of Scrapbooking Attitude, cut it in half and sprayed one half with Dylusions—just a quick spritz of Bubblegum Pink, Calypso Teal and After Midnight. While the ink was still wet, I blotted it with the other half of Scrapbooking Attitude to get two pretty colored pieces. You'll notice I only spritzed lightly, so I could keep some white or "open" areas.
I let it sit overnight so the ink could dry, then I made my card. Here's how:
1. Paint a piece of book paper with white acrylic paint. Let dry.
2. Apply glue stick to the painted paper. Peel the liner from the Scrapbooking Attitude sheet, then adhere to the book paper.
3. Stamp "journey" on white cardstock. Tear the left side and mat on purple cardstock, then white. Add three teal brads. Glue to the piece of Scrapbooking Attitude.
4. Cut a piece of white cardstock slightly smaller than your card front. Stamp the script design horizontally at the bottom. Trim the Scrapbooking Attitude piece to fit with a border of white cardstock showing. Glue together, then wrap with teal ribbon and add to the card front.
Here's another look at the card: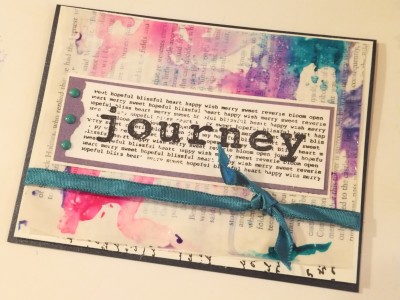 Materials:
– Dylusions: Bubblegum Pink, Calypso Teal, After Midnight
– Stamps: ESN03
– Black inkpad: Jet Black Archival
– Book paper
– White acrylic paint
– Blank navy blue card