{Project} Wednesday: Distress Inks & Stamping on Lazertran
04 Wednesday Sep 2013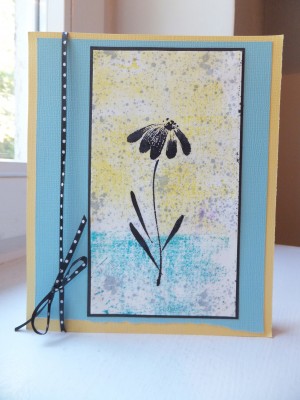 This week on Studio SN on You Tube…Inking and Stamping on Lazertran!
Note: Lazertran is a waterslide decal paper. It's designed for photo printing using a home printer—but you can also stamp and ink on it. Once the ink is dry, just soak the paper in water until the liner comes off. You'll have a beautifully wispy, see-through image that's perfect for layering onto stamped paper. If you look closely, you'll see the spatter pattern showing through the stamped flower on this card.
You'll need:
– Lazertran Waterslide Decal Paper 
– Distress Inks in Peacock Feathers and Squeezed Lemonade (Ranger)
– Stamps: Blush (Penny Black); Spatter (Impression Obsession)
– Jet Black Archival inkpad (Ranger)
– Shallow container of water
– Lint-free cloth or paper towel
– Cardstock: Teal, yellow. white, black
– Gel medium, paintbrush
– Blank card
– Black and white ribbon
– Craft sheet
– Spritzer bottle with water
Here's how to do it:
1) Rub the two Distress inks onto your craft sheet and spritz lightly with water. Place a 3 1/4″ x 6″ piece of Lazertran face-down into the ink and press gently. ("Face-down" is the side you would normally print your photo onto, if using Lazertran the traditional way.) Lift off and let dry, then stamp the flower on top with black ink. Let dry.
2) Fill a shallow container with water, then soak the Lazertran piece. It will curl up, then start to separate. Slide off the liner, and pull out the stamped piece. Place it onto a lint-free cloth or paper towel and gently pat dry.
3) Stamp the spatter design on a piece of white cardstock. Apply gel medium, then adhere the Lazertran piece. Press gently, then trim around the outside edge and mat on black cardstock.
4) Layer the stamped piece on teal and yellow cardstock and wrap with black-and-white ribbon. Add to card front.
Want to see the video? Then stop on by Studio SN on You Tube! Hope to see you there!
Oh yes—if you're interested in more Lazertran techniques, you might check out my Lazertran for Stamping & Collage online course at Creative Workshops!