{Project} Wednesday: Distress Press
18 Wednesday Dec 2013
Today on Studio SN on You Tube: Distress Press!
This is a fun technique that gives another spin on your Distress inkpads, making the most of their shape and how they're raised off the base of the inkpad. It gives a fun shadow effect for your stamped images—and it's easy to do!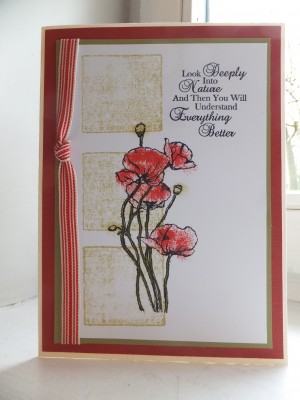 What you'll need:
– Shabby Shutters, Barn Door Distress Inkpads (Ranger)
– Stamp: Sheena Douglass A Little Bit Sketchy Poppies & Daisies (Crafter's Companion)
– Jet Black Archival Ink (Ranger)
– Peeled Paint Distress Marker (Ranger)
– Stick & Spray (Crafter's Companion)
– Cardstock: White, green, red, cream
– Red and white ribbon
– Baby wipes
Here's how to do it:
1) Cut a 7 1/4″ x 4 1/2″ piece of white cardstock. Press the Shabby Shutters inkpad three times along the left side of the cardstock.
2) Mount the stamp on the block and stamp with black. Wrap a baby wipe around your finger, then press into the Barn Door inkpad and then onto the stamped flower. Repeat to add touches of Shabby Shutters to the buds of the flower. Color the stems with the Peeled Paint marker.
3) Use black to stamp the sentiment in the top right corner.
4) Mat on green cardstock, then wrap with a knotted piece of red and white ribbon. Mat again on red cardstock and glue to an 8 1/4″ x 6″ blank cream card.
Want to see the video? Then come on over to Studio SN on You Tube!
Happy Wednesday!