{Project} Wednesday: Distress Stain Bang
13 Wednesday Nov 2013
This week on Studio SN on You Tube: A Distress Stain Bang technique!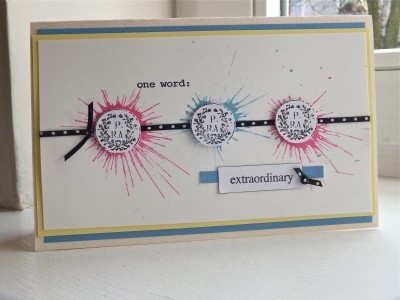 This technique is fast and easy (and a good way to vent a little if you're having a tough day!). Simply bang your Distress Stains onto your cardstock for a super-fun spatter effect.
Here's what you'll need:
• Distress Stains in Picked Raspberry and Broken China (Ranger)
• Matte cardstock
• Jet Black Archival Ink (Ranger)
• Black and white ribbon
• Cardstock: White, yellow, blue
• Foam tape
Here's how to do it:
1) Bang the Broken China Distress Stain right onto the white cardstock. Bang it firmly but not violently! 🙂
2) Repeat with Picked Raspberry on either side of the blue. Let dry.
3) Wrap the cardstock with ribbon, so the ribbon goes across the spatters. Stamp the postmark three times on white cardstock, then cut out and use foam tape to adhere over the ribbon and splotches. Tie a small piece of ribbon over the ribbon border on the left as shown.
4) Stamp "one word" on the top left. Stamp "extraordinary" on white cardstock, cut out and ink the edges. Glue at the bottom right, on top of a small strip of blue cardstock. Tie a knot in a piece of ribbon and glue as shown.
5) Mat the piece on yellow cardstock, then on blue and glue to the card front.
That's it—quick, easy and colorful!
Want to see a video demonstration? Then pop on by Studio SN on You Tube to watch me make the card!
Happy Wednesday!