{Project} Wednesday: Distress Stain Resist
23 Wednesday Oct 2013
This week on Studio SN on You Tube: Distress Stain Resist!
Resist techniques are great because they add color and a little something tactile to projects. Of course, there's also an element of surprise when you first put down some color and see the pattern revealed!
Today's segment is a Distress Stain resist, using a heat-embossed background. Distress Stains work beautifully for this because they have such rich color, and because they're a cinch to apply—the dabber top makes it so easy.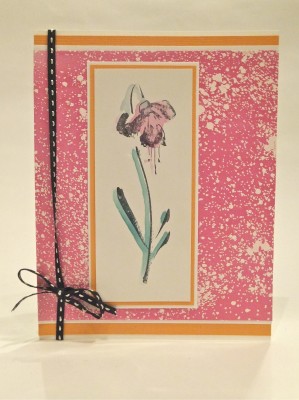 Here's what you'll need:
– Distress Stains: Picked Raspberry, Evergreen Bough from Ranger
– Cover-a-Card Spatter stamp from Impression Obsession (and Mega Mount)
– Embossing ink, white embossing powder, heat tool
– Jet Black StazOn ink
– Chandelier stamp from Penny Black
– Cardstock: White glossy, orange
– Mini mister and water
– Black and white ribbon
– Tissue
– White blank card
Here's how to make it:
1) Stamp and heat-emboss the Spatter design on white glossy paper. Apply Picked Raspberry Stain to the paper. Note: I did two applications.
2) Blot away excess ink.
3) "Ink" the Chandelier flower stamp with Picked Raspberry and Evergreen Bough stain. Spritz with water and stamp onto a piece of white glossy cardstock.
4) Clean stamp and then use StazOn to stamp on top of the Stain-stamped image. Trim and mat on orange and white cardstock. Glue to the resist background.
5) Glue orange cardstock to the card front, leaving a narrow border at the top and bottom. Mat the resist-stamped paper top and bottom with white, then glue to the card front. Wrap with black and white ribbon.
Want to see the video demonstration? Then stop on by Studio SN on You Tube! Hope to see you there!