{Project} Wednesday: Eclectica Stamped Card
20 Wednesday Feb 2013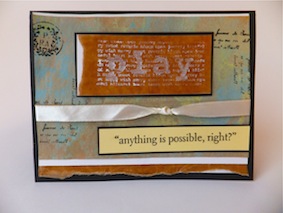 Of course this week's project is an Eclectica stamped card!
Here's the set I'm using: The official name is ESN04, but I prefer to call it "Play"!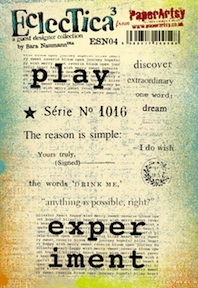 The background of the card was made with a Gelli Plate—this is blue, yellow and green Claudine Hellmuth Studio paints squeezed onto the Gelli Plate and spread it around with an old hotel key card. Then I pressed on a piece of kraft paper (an old paper bag, if you want to get specific) and lifted to get a subtle design.
Here's the rest:
1) Cut the Gelli Plated kraft paper slightly smaller than your card front. Stamp the small background script both vertically and horizontally in the upper right and lover left corners, using black ink. (I love this little snippet of cursive writing and for being so small, it's incredibly useful.) Stamp the circle image in the upper left corner.
2) Tie a knot in a piece of off-white ribbon and wrap around the Gelli Plated kraft paper.
3) Use white acrylic paint to stamp the word "play" onto waxed kraft paper. Tear one edge, then glue it to white cardstock and trim. Mat on black cardstock. Glue to the top of the Gelli Plated kraft paper. Stamp "anything is possible" on yellow cardstock, mat on black and glue at the bottom.
4) Add a strip of white cardstock to the top and bottom of the kraft paper. Layer the bottom with a torn strip of waxed kraft paper and another piece of white cardstock. Mount onto a black card base.
Enjoy…and happy Wednesday!
Supplies:
– Eclectica Stamps, ESN04 (Paper Artsy)
– Gelli Plate (Gelli Arts)
– Claudine Hellmuth Studio Paints (Ranger)
– Krunchy Waxed Kraft Paper (Paper Artsy)
– Kraft paper or brown paper bag
– Black Versafine inkpad (Tsukineko)
– Cardstock: Yellow, white, black
– Off white ribbon