{Project} Wednesday: Gelato Card
17 Wednesday Jul 2013
You might have seen this card before…I shared it here way back in February! But since I also demonstrated it on my You Tube show, I thought it might be a nice refresher to post it here again. So please forgive the repeat! 🙂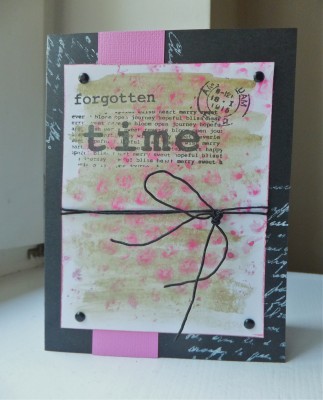 The card actually has two backgrounds and both are super-easy to do. You'll need:
– Black card blank
– Smooth white cardstock, hot pink cardstock
– White acrylic paint
– Black Archival Ink from Ranger
– Eclectica stamp set (ESN05) from Paper Artsy
– Pink and Gold Metallic Gelatos
– Bubble wrap
– Craft sheet
– Water spritzer (I live by my Judikins Mister), paintbrush
– Brads, black string
1) Put white acrylic paint on the French letter stamp and stamp it both vertically and horizontally on the black card—one at the bottom right, the other at the top left. Clean your stamp right away! Note: You can use Ranger's Acrylic Paint Dabber for easy application, or use regular white acrylic paint with a foam brush.
2) Scribble gold metallic Gelato across a 3 3/4″x 5″ piece of white cardstock. Use a wet paintbrush to blend the color out, leaving a bit of white around the edges. Let air dry or heat with an embossing tool.
4) Scribble a little pink Gelato on your craft sheet, spray with water and tap the bubbly-side of the bubble wrap into the watery color. The more water you spray, the less defined your dots will be, so keep that in mind. Use the bubble wrap to stamp the pink onto the white paper. Let dry, or heat-dry.
5)  Use black ink to stamp "forgotten", the "time words" image and the Amsterdam postmark. Add a brad in each corner and wrap with black string.
6) Add a 1 1/2″-wide strip of hot pink cardstock vertically on the card front, then glue the stamped focal on top.
Happy Wednesday!