{Project} Wednesday: Gelli Plate Card
13 Wednesday Mar 2013
This week I've been busy working on my first column for CardMaker magazine, which will appear in the Winter 2013 issue. Yes, I said Winter 2013…magazines work far in advance, so designers work far in advance too!
This card will not be in the magazine. Usually when I write an article, I end up with a few extra cards that don't make it in for various reasons. With this one, the other three projects just looked better together as a unit. I still love it and wanted to share it with you here.
The background is made with the Gelli Arts Gel Printing Plate and Claudine Hellmuth Studio Acrylic Paints (Painterly Pink and Smidge of Blue). I like these little squeeze bottles of paint for this because they're easy to use—you don't have to scoop the paint out of a jar.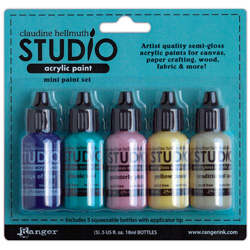 It's super easy to make the background. Here's how:
1) Squeeze a bit of Painterly Pink and Smidge of Blue on the Gel Printing Plate. Spread out the paint with a brayer.
2) Press a piece of corrugated cardboard into the wet paint; lift. Repeat with bubble wrap.
3) Spritz the plate  lightly with water. Press a piece of paper down and smooth. Lift to see a beautiful, unique design.
The rest of the card is made like this:
1) Cut the painted paper slightly smaller than the card front. Tie a knot in a piece of white ribbon and wrap around the painted paper. Glue to the center of the card.
2) Stamp and heat-emboss the star image twice: Once on pink cardstock, once on blue. Cut out the pink star. Use foam tape to glue it on top of the blue stamped image. Mat on white cardstock, tearing the bottom edge. Mat again on pink cardstock and glue to the front of the card. (The stamp is from the Labels & Frames set from Hot Off The Press.)
My CardMaker article will be full of extra tips and info on everything from texturizing mediums to easy clean-up ideas plus step-by-step photos on creating beautiful backgrounds…but in the meantime, I couldn't wait to share this project with you!
Happy Wednesday!