{Project} Wednesday: Inktense Pencils
29 Wednesday May 2013
Today we're en route from Poland to Portland, Oregon…with a brief stop in our beloved Amsterdam. This week's You Tube show is scheduled for release today as usual (fingers crossed fingers crossed fingers crossed…) and I'm super-excited to show you how easy it is to play with Derwent's Inktense Pencils.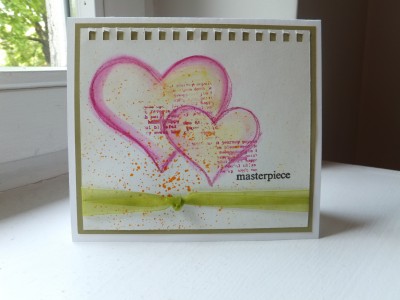 I personally adore this technique because it makes me look and feel like an artist…yet it's super (I mean super) easy to do. I'm giving you the heart pattern as a download too, since some people aren't crazy about drawing their own pattern shapes. (Just go here and scroll below the intro video to find the pattern, or type "heart pattern" into the search box on my website.)
In the show, I mentioned that I picked up these Inktense pencils at my local (Polish) art store. This art store is about 10′ square and everything is under the counter, so you must ask to see it. (Or in my case, point and mispronounce.) I'd heard about these pencils, which draw like a pencil but give the effect of watercolor ink when wet, and was excited to find them quite by accident.
Hope you can come on over to Studio SN on You Tube and check out today's video. I think you'll be just as intrigued by these pencils as I was! (You'll probably have an easier time buying them, too!)
Happy Wednesday!
PS. The stamps I used are from my Eclectica line from Paper Artsy. I LOVE them with the Inktense!!!!