{Project} Wednesday: Kroma Crackle Card
14 Wednesday Aug 2013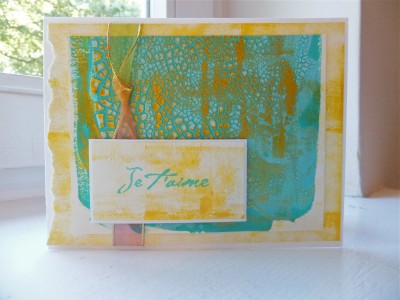 Today at Studio SN on You Tube: Kroma Crackle!
I first saw Kroma Crackle at the CHA show last January and thought—this is so cool, I can hardly wait to use it on a card! It's a really fun way to get texture and an artsy touch on your paper crafts. It's super easy to do, too!
Here's what you'll need:
– Acrylic paint
– Sturdy white cardstock or acrylic paper
– Acrylic sealer or Diamond Glaze (Judikins)
– Brayer
– Ribbon
– Stamp (this is je t'aime from Scarlet Empress)
– Blank white card
You'll first paint the white cardstock with acrylic paint. I used two coats of teal paint. When it's dry, spread on some Kroma Crackle with your palette knife. A thin layer will dry to fine cracks, and a thicker layer will have more dramatic cracks. You'll want it to be about 1 mm thick, or you won't get much of anything! Let it dry. Mine dried overnight, but you might need longer if you've applied a very thick layer or if you live in a humid area. Add a thin layer of Diamond Glaze or acrylic sealer, then let dry.
Squeeze some Mica Gloss onto your craft sheet or palette, then brayer it onto your crackled paper. Set it aside to dry. While it dries, brayer more Mica Gloss onto another piece of white cardstock. Let dry, then stamp the sentiment with paint onto a small piece of white cardstock; use the rest as a background on your card. Layer with the crackled piece, a piece of sheer ribbon and the matted sentiment.
Want to see a demonstration of this technique? Pop on by Studio SN on You Tube!
Happy Wednesday!