{Project} Wednesday: Lazertran Photo Transfer
28 Wednesday Aug 2013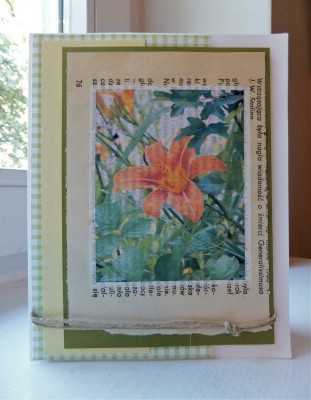 This week on Studio SN on You Tube…one of my favorite techniques: Lazertran!
Lazertran is a waterslide decal paper. You can print your photos onto the paper using your home printer. Once the ink is dry, just soak the photo in water until the liner separates from the photo. You'll have a beautifully wispy, see-through image that's perfect for layering onto book paper. If you look closely, you'll see the text showing through the flower photo on this card.
This is also one of those techniques that are great for collage pieces too—not just cards. (And if you're interested in saving 25% from my Lazertran for Stamping & Collage online course, you have until August 31, so you might want to pop on by Creative Workshops!)
But onto the technique!
You'll need:
– Lazertran Waterslide Decal Paper
(Note: I have an inkjet printer, so that's the kind of Lazertran I'm using; they also have a version for laser printers, so make sure you have the right paper for your printer!)
– Photo and printer
– Shallow container of water
– Lint-free cloth or paper towel
– Book paper
– Green, yellow cardstock; green patterned paper
– Hemp twine
– Foam tape
– Gel medium
– Blank card
Here's how to do it:
1) Print your photo onto Lazertran Waterslide Decal Paper. Note: I size 4 photos to print on one sheet of Lazertran, and each photo is about 3″x4″. I arrange them in a Word document, then I can print them all in one go. This saves paper, and money.
2) Let the ink dry thoroughly, then trim out a photo.
3) Fill a shallow container with water, then soak the photo. It will curl up, then start to separate. Slide off the liner, and pull out the photo. Place it onto a lint-free cloth or paper towel and gently pat dry.
4) Apply gel medium to a piece of book paper, then adhere the photo. Trim a wide border, then mat on dark green cardstock. Layer with a strip of yellow cardstock and patterned paper. Wrap with hemp twine and adhere to a blank card with foam tape.
Want to see the video? Then stop on by Studio SN on You Tube! Hope to see you there!