{Project} Wednesday: Paper Crafter Crayons
12 Wednesday Jun 2013
This week Keith and I got a surprise gift certificate to a local restaurant, Marche. So I put my new Paper Crafter Crayons, Distress Stain and LaBlanche paper (my new favorite for stamping!) to good use on a thank-you card.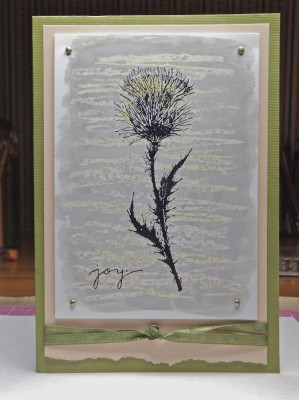 I love this easy technique because it's fast, simple to do and gives a great effect. (Plus I just got this pretty stamp and it printed beautifully on the specialty paper.)
Here's what I used:
Paper Crafter Crayons in Neutrals
Fred Mullet Thistle stamp from Creative Imaginations
La Blanche Specialty Stamping Paper
Archival Black Ink from Ranger
Distress Stain in Pumice Stone from Ranger
Joy stamp from A Muse Artstamps
Tiny gold brads
Green ribbon
Cardstock: Green, peach
Here's how I made the card:
1) Scribble gold and peach crayons across a piece of specialty stamping paper. Stamp the thistle with black, then color the top of the thistle with more gold and peach. Apply Distress Stain across the card. The crayons act as a resist; you can blot the stain or let it air-dry. Add the "joy" stamp.
2) Add a tiny brad at each corner and mat on pale peach cardstock. Tear the bottom edge, wrap with green ribbon and place on a folded green card.
Here's another look: